SALZBURG, Austria, Aug. 5 (Xinhua) -- The China Central Chinese Orchestra performed Friday at the 91st Salzburg Festival, the first time a traditional Chinese music group played at the world-renowned event.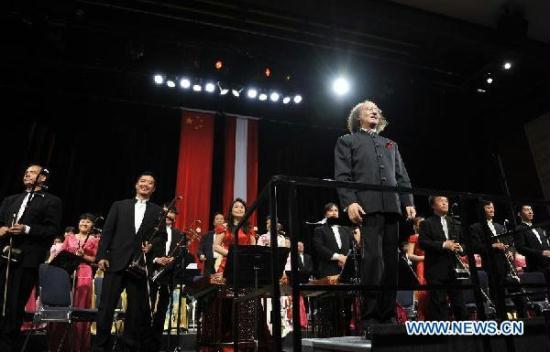 Director Chen Xieyang (Front) from China National Orchestra poses at a concert held in Salzburg, Austria, Aug. 5, 2011, as part of the Salzburg Festival. Salzburg, the capital of Austria's western state Salzburg, is also the birthplace of Wolfgang Amadeus Mozart. The Salzburg Festival is held every summer for five weeks starting in late July, and is therefore also known as the "Salzburg Summer Festival." (Xinhua/Yu Yang)
The state-level group presented music from both China and the West, including The Moon Over a Fountain, My Motherland, Swan,Festival Overture and Tritsch Tratsch Polka.
This year marks the 40th anniversary of the establishment of diplomatic ties between China and Austria. Austria's literature and art community cherished very much the orchestra's arrival at the festival.
"I am sure that your performance at the Salzburg Festival will deepen understanding and friendship between the two peoples," Austrian President Heinz Fischer said in a written address.
While meeting the group, Salzburg Mayor Heinz Schaden said Chinese music has a long tradition and he was confident the performance would bring more understanding of that to Austrians.
The performance was a good start to promoting important cultural exchanges between the two countries, he said.
Orchestra chair Xi Qiang told Xinhua that Chinese music uses ethnic aroma, in particular beautiful melodies, to express some of the characteristics of traditional Chinese culture.
the lute, urheen, bamboo flute, Ruan and many other traditional Chinese music instruments have created a unique spiritual musical realm for audience so that they can feel the rich connotation of Chinese folk music, Xi said.
Related stories
Editor:Wang Xiaomei |Source: Xinhua