COPLEY, Ohio - A family argument Sunday in Ohio ended in the shooting deaths of eight people in two places, including an 11-year-old, and two more people were wounded, authorities said Sunday.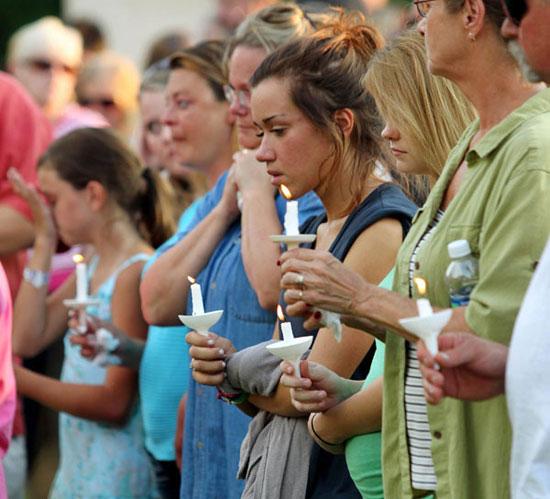 Members of the Copley, Ohio community hold a candlelight vigil at Copley Community Park in
honor of seven neighbors who were killed August 7, 2011. [Photo/Agencies]
One person shot five people to death in one location, then two more were killed nearby before police killed the gunman, police Chief Michael Mier told WKYC-TV.
The shootings happened in a wooded, residential neighborhood of older homes outside Akron, Copley Township officers said. The neighborhood remained blocked off by police Sunday afternoon.
Jeff Kirby of nearby Norton said he was visiting his mother's home a block from the shootings at mid-morning when he heard gunfire - about 15 shots with several pauses between them.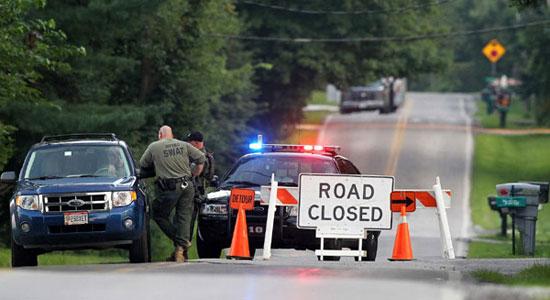 Law enforcement officers set up a road block as investigations continue near the scene of a
shooting in Copley, Ohio August 7, 2011. [Photo/Agencies]
Kirby, 53, said the last gunfire he heard occurred about the same time he heard sirens in the neighborhood.
Copley police Sgt Eric Goodwin said he did not know the conditions of the wounded but said he believed there were no more victims.
"As far as I know, everyone's accounted for," he said.
He gave no more details, including how the shooter and victims were related, their names or what led to the argument.
"That's still under investigation," he said.
Copley Township is a town of about 14,000 people outside Akron in northeast Ohio.
Related stories
Editor:Yang Jie |Source: China Daily