BEIJING, Aug. 8 (Xinhuanet) -- After seven seasons of tangled mysteries, messy marriages and nervous breakdowns, ABC executives and the producers of "Desperate Housewives" announced the eighth and upcoming season would be the show's last, according to media reports on Monday.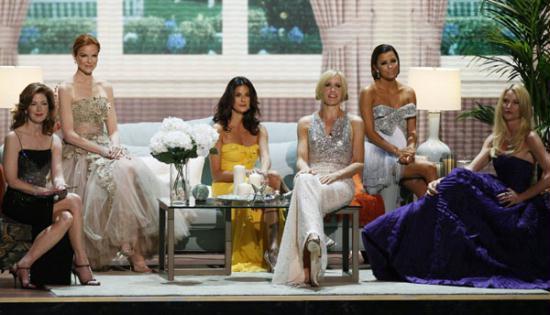 The cast of "Desperate Housewives" Dana Delany, Marcia Cross, Teri Hatcher, Felicity Huffman, Eva Longoria and Nicollette Sheridan (L-R) take the stage at the 60th annual Primetime Emmy Awards in Los Angeles September 21, 2008. (Xinhua/Reuters Photo)
"The only thing harder than creating a hit television show is knowing when to end it," executive producer Marc Cherry said at the Television Critics Association press tour in Beverly Hills. "Because I have been working in television for 23 years, I am very aware of people overstaying their welcome."
Cherry was an out-of-work former writer for "The Golden Girls" living in a cramped L.A. condo in 2004 when ABC plucked from the pile his script about the scheming women of Wisteria Lane and shepherded it onto the small screen.
The series exploded into a blockbuster hit that transformed not only the fortunes of Cherry and the ABC network but also actresses older than 40. "Desperate Housewives" starring Teri Hatcher, Felicity Huffman, Marcia Cross and Eva Longoria, demonstrated that middle-aged women could be sexy.
Season after season, the writers have tried to artfully stitch together story lines of the four key characters that intersect with the exploits of newly introduced characters. Simultaneously, they have to thread into the plot the ongoing mysteries that have been central to the show.
"I swear my next show is going to be just two guys in a prison cell," Cherry said. "I need something easier than 'Desperate Housewives.'"
Editor:Wang Xiaomei |Source: Xinhua