Planning for US to be top market by sales in the next five years, executive says
SHANGHAI - China's second-largest telecom equipment maker, ZTE Corp, is confident it can beat its 2011 target of shipping 80 million mobile devices and is looking for an expanded US footprint to fuel growth.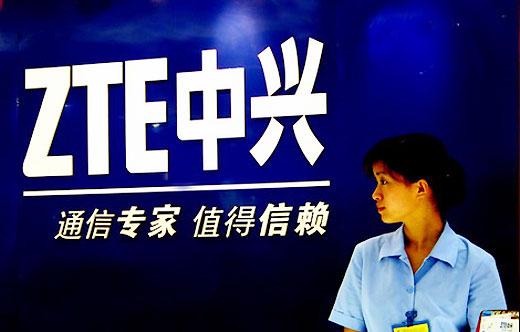 A saleswoman stands at a display of ZTE handsets in a supermarket in Liaocheng, Shandong
province. The company said it sold 35 million handsets in the first half of 2011.
[Photo / China Daily]
The world's sixth-largest cell phone vendor, which shipped 35 million units in the first half, also aims to ship 12 million smartphones, which mainly run Google Inc's Android operating system, during the rest of the year. It sold 5 million smartphones in the first half.
ZTE makes a mix of low- and high-end smartphones for Western markets and will roll out its star product, known as Skate, in Europe this month and launch it in China within three months, said He Shiyou, ZTE's executive vice-president.
He said the company aimed to ship 1 million Skate phones by year-end.
ZTE, like its bigger Chinese rival Huawei Technologies Co Ltd, is hoping to rely on consumer devices to drive growth. Earlier this month, Huawei launched its first cloud-computing smartphone to complement its range of low-cost phones.
"I wouldn't say the low-end smartphone is a completely new market. I would say that they are just replacing some of the demand in higher-end feature phones," said Zona Chen, an analyst from Samsung Securities Co Ltd.
Overall shipments, including cell phones, smartphones, tablet personal computers and wireless dongles, rose 40 percent to 60 million units during the first half.
The company also aims to make the United States its top market in sales in the next five years, said He. The United States accounts for 10 percent of ZTE's handset business, behind Europe, which generates 15 percent to 20 percent, and China with 35 percent.
"Success in the United States is the proof required to say you have global success," He said. ZTE recorded 300 percent growth in the US market in the first half.
Chinese technology companies are the latest entrants into an increasingly crowded smartphone manufacturing sector dominated by Apple Inc, Nokia Corp and Samsung Electronics Co.
Apple and Samsung Electronics ended struggling Nokia's 15-year reign at the top of the smartphone sales rankings in the second quarter, researchers said last week.
Nokia dominated the smartphone market since its 1996 launch of the Communicator model, but competition from its two nearest rivals and a slump in its own sales sent it from first to third place in the second quarter as growth in the sector started to slow.
In the first quarter, ZTE was ranked the sixth-largest handset maker by shipments globally, behind Nokia, Samsung, LG Electronics Inc, Apple and Research In Motion Inc, according to Gartner Inc.
ZTE plans to launch long-term evolution devices in the United States in the second half and smartphones based on Microsoft Corp's Mango operating system early next year.
China's Alibaba Group also recently launched its first self-developed mobile operating system and smartphone running on its cloud computing-based operating system.
Related stories
Editor:Yang Jie |Source: China Daily