SHANGHAI - Chinese equities shrugged off the downward pressure of steep drops in the US and European stock markets, triggered by rating agency Standard & Poor's move to downgrade the long-term credit rating of the United States, and erased intraday losses to close flat on Tuesday.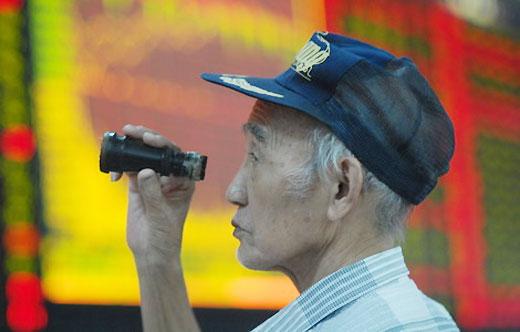 An investor at a brokerage office in Wuhan, Hubei province. Chinese equities ended mixed
on Tuesday, though concerns persisted that the world economy might drop back into a
recession. [Photo / China Daily]
The benchmark Shanghai Composite Index fell 0.75 point to 2526.07, down 0.03 percent, with transactions valued at 107.7 billion yuan ($16.7 billion).
The Shenzhen Component Index edged up 2.45 points, or 0.02 percent, to 11315.08 on transactions of 90.78 billion yuan.
A shares opened lower, extending their sharp fall on Monday, amid concerns over the global economic outlook.
But boosted by heavyweight banking and property stocks, Chinese equities pared intraday losses of 3.5 percent, standing out among Asian stock markets for the day.
Gains were also posted by producers of rare earth permanent magnet alloys, while stocks of gold miners, water conservation equipment makers and electric power suppliers were among the losers.
Analysts are split about the direction of China's stock market, but they agree that Tuesday's rally reflected a technical correction from Monday's plunge, as well as a reaction to pledges by leaders of the world's major economies to bail out the ailing capital markets.
Xinhuanet.com published a commentary on Tuesday morning, asking investors to be confident in China's stock market, stressing the nation's fundamentals hadn't changed.
The commentary noted that "various signs have shown there is little chance that a collapse similar to 2008's financial meltdown will happen in overseas economies and markets, but a long recession does have its possibility, which is negative to China's economy".
But it said the correct direction of macroeconomic controls and consistent confidence in domestic economic development would help realize steady and faster economic growth and lay a solid foundation for the stock market.
However, some analysts said that the technical nature of the correction, and sluggish gains by finance and property shares, might signal further declines.
Rate hike expected
In addition, China's consumer price index, the gauge of inflation rate, came in at 6.5 percent in July, the highest in 37 months, driven mostly by food prices. The figure fueled expectations that another interest rate hike is in store.
"Actually, the impact of the US credit downgrade has not fully rolled out in China. Simply speaking, it will have two negative effects on the Chinese economy in the near future.
"One is that China's exports will decline due to a sluggish US economy. The other is China's shrinking foreign exchange reserves," said Zhou Lu, a macro-economy analyst with Sealand Securities.
About 70 percent of China's foreign reserves are in dollars or dollar-denominated securities, so any weakening of the dollar will affect their value.
Kai Wenming, an analyst from Everbright Securities, ruled out the possibility of China's stock markets experiencing any record declines.
"It's a bit exaggerated to say China will passively follow the US drop, because the substantial drop of the US market has a lot to do with its earlier surge after the last financial tsunami, while the Chinese stock market has stayed at the bottom since late 2008," he said.
Over the past five trading days, the Shanghai Composite Index has dropped 5.7 percent while the smaller Shenzhen Component Index has declined 5.2 percent.
Against this backdrop, Zhou urged investors to be calm and positive. "After all, the Chinese economy is growing rapidly with a solid outlook," she said.
But she warned of a worst-case scenario, if the US Federal Reserve Board launched a third round of quantitative easing, or QE3, to rejuvenate the domestic economy.
Related stories
Editor:Yang Jie |Source: China Daily