Siblings ready to reap triathlon glory at the London Olympic Games next year after great 'trial' performances at host venue.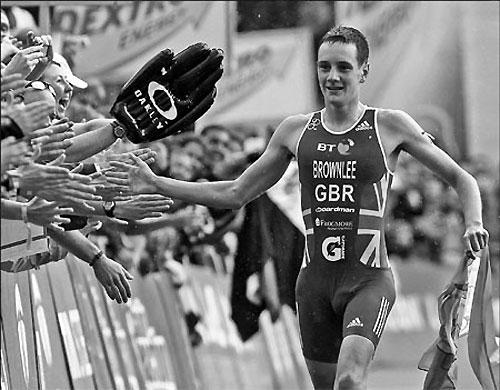 Great Britain's Alistair Brownlee reacts as he wins the men's ITU World Championship
at Hyde Park in London on Sunday. Eddie Keogh / Reuters
Alistair Brownlee will go into the London 2012 men's triathlon at short odds to deliver a home victory but he knows as well as anyone that his sport has proved completely unpredictable when it comes to the Olympic Games.
Brownlee, 23, the 2009 world champion, destroyed all his major rivals in Sunday's London leg of the world series over the same Hyde Park course to be used in next year's Games.
With his 21-year-old brother, Jonathan, posting the fastest run of the day to take third place, there could even be a British podium double next year as the flat course gives little help to the stronger cyclists and favors the run specialists.
Yet, since its introduction in 2000, the Olympic triathlon has consistently thrown up surprises.
Eleven years ago, Australia had so much strength in depth that it timetabled the women's triathlon as the first event of the Sydney Games hoping to get off to a gold medal start.
However, hot local favorite Michellie Jones had to settle for silver behind Swiss outsider Brigitte McMahon, while Canadian Simon Whitfield won the men's event with none of the pre-race favorites among the medals.
In Athens in 2004, the heat and a hilly course gave a lift to the strong cyclists, enabling veteran Hamish Carter to lead home a surprise New Zealand one-two ahead of Bevan Docherty and Austrian long-shot Kate Allen to come from 28th place after the bike leg to win the women's race.
Spaniard Javier Gomez had swept all before him going into the 2008 Games but, hampered by injury, could finish only fourth as Germany's Jan Frodeno produced the run of his life to win.
It was a similar story in the women's race where 2007 world and European champion Vanessa Fernandes of Portugal was edged out by Australian Emma Snowsill.
The down-to-earth Brownlee brothers are not about to waste time worrying about any sort of "Olympic jinx" though as they continue the day-by-day approach that has worked so well for them so far in their medal-laden careers.
"The same result (as on Sunday) would be brilliant and a one-two would be amazing, but the Olympics is a year away and anything can happen," Alistair Brownlee said after his emphatic win in front of about 50,000 fans along the course.
"All we can do is keep working hard, prepare properly and hope we can both get to the start line in good condition.
"It's a flat bike course, it's not that technical but a break got away today so a break could get away next year and it could have got away today without me in it so it's important to cover every eventuality."
Brownlee senior controlled the race from start to finish on Sunday, surprisingly escaping in a group of four which opened a gap of almost a minute before finishing 14 seconds ahead of the pack containing almost all the remainder of the 65-man field.
"I was really surprised we got away, I didn't even really try," he said. "I was just following the wheel in front of me, then we got a bit of a gap and suddenly it jumped up to a minute and I was as amazed as anyone.
"I stopped working completely then, trying to make sure Jonny still had the chance of getting on the podium as well."
Sunday's race was being used by many countries as an Olympic qualifier and the fact that many athletes were racing mainly to secure their berth gave it an unusual character.
"Nobody was really working," Jonathan Brownlee said of the chase pack he was in on the 40 km bike leg.
"I think a lot of strong cyclists were happy to settle for top-10 or whatever their Olympic qualification was - a lot of people were looking at each other and thinking about their countrymen, not wanting to work too hard if a teammate wasn't.
"That was good for Alistair and it worked out well for me, but it won't be like that next year."
Editor:Yang Jie |Source: China Daily