By Shi Jierui
To promote stronger and better understanding between the people in the US and China is the most important priority, said Gary Locke. The new US ambassador to China met the press at the ambassador's residence in Beijing on Sunday.
Ambassador Locke arrived in Beijing on August 12.
The 61-year-old Chinese-American said there are differences between China and the US, and the two countries have many areas of cooperation and collaboration that in which both governments need to expand.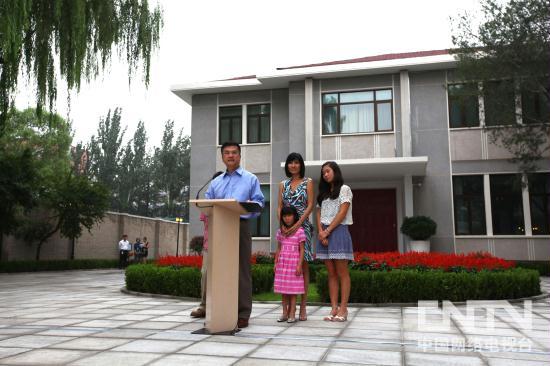 US ambassador to China Gary Locke is addressing on his meeting with journalists in Beijing with his family standing behind.
US ambassador to China Gary Locke is addressing on his meeting with journalists in
Beijing with his family standing behind.
"Both governments need to understand those differences if we are effected to be more successful in forging more collaborative and cooperative relationships to the mutual benefits of the people and our governments of both countries," said Locke.
During the short press conference, Locke said he was humbled and honored as a child of Chinese immigrates. He introduced his wife Mona Locke to the media, and Mona said in Chinese that the whole family is very happy to live in Beijing.
His arrival, five days before US Vice-President Joe Biden's reciprocal visit to China on Aug 17, will "excitedly open a new chapter for Sino-US relationship", the US embassy's official micro blog said.
Mona Locke, Gary Locke's wife is briefing the press after being introduced by Gary
Locke.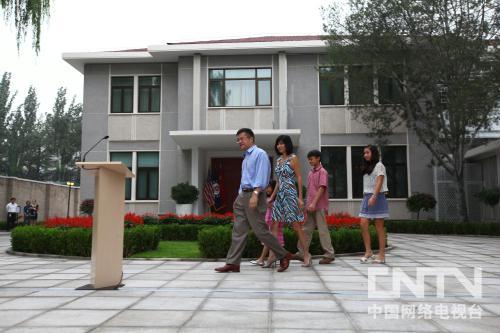 US ambassador to China Gary Locke is with his family members to meet journalists in
Beijing.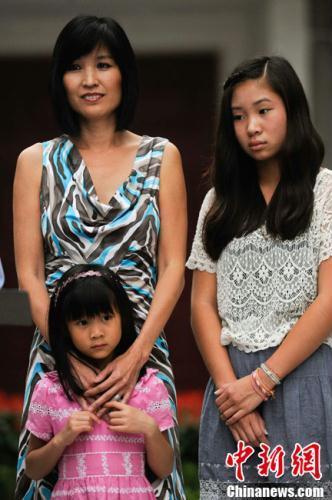 Gary Locke's wife and two daughters.
The US President Barack Obama clearly regards the Sino-US relationship as one of the most critical relationships for the US by nominating Gary Locke as the US ambassador to China.
Ambassador Locke left his position as U.S. Commerce Secretary when he was sworn in as Ambassador to China earlier this month. He was nominated by US President Barack Obama in March after Jon Huntsman stepped down to prepare for a run for the 2012 presidential election as a Republican candidate. And his nomination to the post was warmly received by China.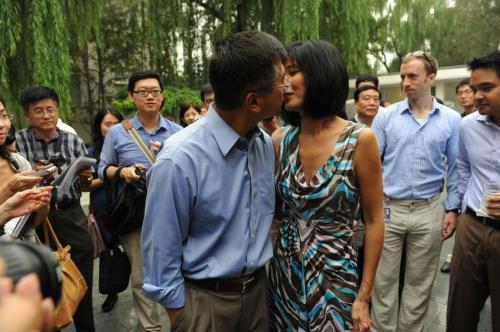 Gary Locke and his wife
Ambassador Locke has identified China as a critical emerging export market for US companies. In a speech in May 2011, he noted that the US and China may be at an economic turning point that would see "empowered Chinese consumers buying more goods and services from US companies" and "Chinese and American innovators working side-by-side to develop breakthrough technologies."
Locke was born and raised in Washington. He also served in the State Legislature, as a County Executive, and as Governor for Washington from 2007 to 2005. As governor, he doubled the state's exports to China.
Locke's grandfather came to the US over a century ago to work as a house servant for a family in the state of Washington in exchange for English lessons. His father was also born in China and moved to the country as a teenager.
New US ambassador to China arrives in Beijing
Gary Locke, the new US ambassador to China, has arrived in Beijing. According to the US Embassy, Gary Locke is scheduled to meet the press on Sunday afternoon, which will be his first public appearance in China as US ambassador.
Full story >>
Review: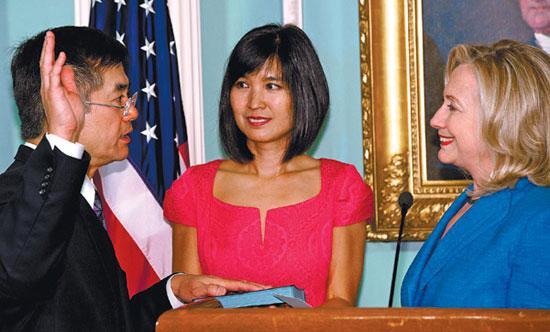 US Secretary of State Hillary Clinton (right) swears in Gary Locke as the first Chinese-
American to be appointed US Ambassador to China on Monday, August 1, 2011, during a
ceremony at the State Department in Washington. [Photo/China Daily]
Gary Locke sworn in as new Uambassador to .S. China
WASHINGTON, Aug. 1 (Xinhua) -- Former U.S. Commerce Secretary Gary Locke was sworn in on Monday as the new U.S. ambassador to China, becoming the first Chinese American to hold the post. Full story >>
Feature: Locke's road to fulfilling American dream
The approval of Chinese-American Gary Locke as the US's next ambassador to China has made international headlines. Born into an immigrant family in Seattle and a graduate of Yale University, the current US Secretary of Commerce has achieved another milestone in his career. CCTV reporter Fintan Monaghan takes a look at his road to fulfilling the American dream. Full story >>
What will Gary Locke bring to China?
Locke vows to build positive, cooperative, comprehensive relationship with China
WASHINGTON, May 26 (Xinhua) -- Nominee for the next U.S. ambassador to China and the current U.S. Secretary of Commerce, Gary Locke, vowed on Thursday that he will work to build a positive, cooperative and comprehensive relationship between China and the United States. Full story >>
Gary Locke aims to promote Sino-US trade ties

US Commerce Secretary Gary Locke, tapped to be the next envoy to China, says he would push forward cooperation between the two countries on a number of fronts, including economic, security, military, resources, and climate. Full story >>
Editor:Xiong Qu |Source: CNTV.CN