NEW YORK, Aug. 15 (Xinhua) -- Wall Street rallied on Monday, helping erasing all losses after the Standard & Poor's downgrade on the U.S. rating, as investors were hunting bargains after a roller-coaster week.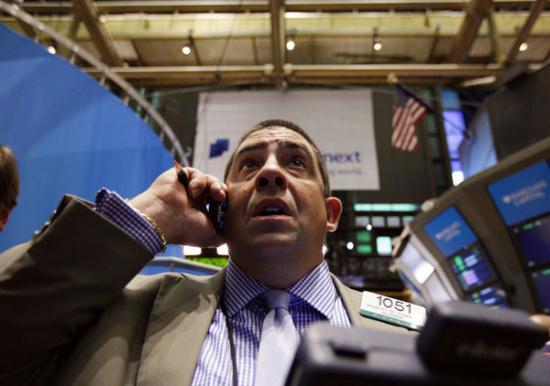 A trader works on the floor of the New York Stock Exchange, August 15, 2011.(Xinhua/Reuters Photo)
As the downgrade aftermath fades away, now the investors are paying more attention to the economic situation. With a positive view toward future markets and a belief that shares such as the technological ones will have a good return, bargain hunters are returning to the market.
The Dow Jones industrial average gained 213.88 points, or 1.90 percent, to 11,482.90 after the blue-chip index swung over 400 points in four of five trading days last week, marking it one of the most volatile weeks in Wall Street history.
Bank of America surged 7.9 percent to lead the gainers in all 30 Dow components after the company sold an 8.6-billion-dollar Canadian credit-card portfolio to Toronto-Dominion Bank.
The bellwether Poor's 500 rallied 25.68 points, or 2.18 percent, to 1,204.49, led by the utility and energy sectors.
The tech-heavy Nasdaq Composite Index jumped 47.22 points, or 1. 88 percent, to 2,555.20. Monday's move marked the third straight gains for major indexes, and the best three-day performance for stocks since March 2009.
So far, stocks have erased all losses after the Standard & Poor' s downgraded the U.S. triple-A rating, resulting in severe volatility in the market.
Major indexes were also boosted by another piece of deal-making news. The searching engine giant Google announced to purchase wireless phone maker Motorola Mobility Holdings at 12.5 billion dollars in cash, the biggest acquisition in Google's history.
Investors were looking forward to Tuesday's meeting between French and German leaders, hoping some initiatives can come out to restore confidence in credit and other markets.
Meanwhile, some of the economic data will also draw investors' attentions this week, including housing starts, initial jobless claims and Wal-Mart's earnings.
In other markets, the U.S. dollar traded mixed against major currencies in late New York trading on Monday and oil prices surged on Monday as concerns about European debt eased.
Light, sweet crude for September delivery rose 2.50 dollars, or 2.93 percent to settle at 87.88 dollars a barrel on the New York Mercantile Exchange.
Related stories
Editor:Wang Xiaomei |Source: Xinhua