"IT was great to find a religious center in the Universiade Village and luckily enough, I saw my first Chinese priest. I'm really blessed," wrote Tony Nekemiah Kazimoto, a Tanzanian athlete, in a guest book in the Catholic activity room at the religious center.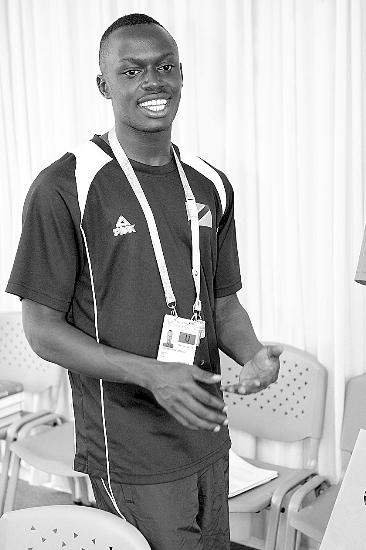 Tony N.Kazimoto
The three-floor religious center includes rooms for Buddhists, Muslims and Christians, a meditation room and 24-hour service. A total of 39 professional clergy from around the country are tasked with hosting religious services.
On a visit to the center on August,15th, Kazimoto was received by a Chinese priest, Liu Zhentian, who invited the track-and-field athlete to pray at the center.
"The center has had more than 800 visitors, about 70 percent of whom came for religious services," said Tu Lidun, vice director of the village's religious services.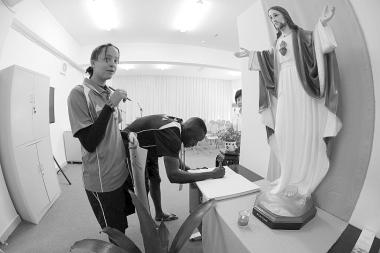 Magdalena Ruth Moshi speaks with a Shenzhen Daily reporter as
Tony Nekemiah Kazimoto writes comments in a guest book in the
Catholic room at the religious center on August,15th.Sun Yuchen
While the physical recovery center in the village prepare athletes for competition, the religious service provides spiritual comfort, Tu said.
Accompanying Kazimoto was a teammate, Magdalena Ruth Moshi, a swimmer.
"The center shows the village has taken into account different cultures and with attention to the athletes' social and spiritual well-being," said Moshi.
Some athletes visited the center to learn about religions.
"Many foreign athletes have come to learn about Buddhism," said a monk from Longquan Temple in Beijing who is serving at the center.
Related stories
Editor:Wang Xiaomei |Source: www.sz2011.org