By Justin Fauteux, Young Reporter (Canada)
SHENZHEN, August 12, 2011 - This morning's first Young Reporters' seminar saw International University Sport Federation (FISU) press officer posed a few simple questions to a room of over 60 young reporters.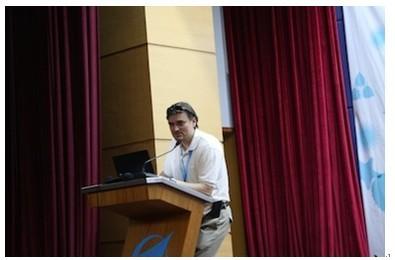 FISU press officer Christian Pierre. Photo/Justin Fauteux, Young
Reporter (Canada)
"How many of you have read the FISU magazine," he asked. None raised their hands. "How many of you heard of FISU before you got here?" Less than half the arms in the room went into the air. Apparently, this morning's introductory lecture on the history and operation of FISU and the Universiade would be quite necessary.
In the first of the 11 seminars the young journalists, who hail from all five continents and 33 different countries, will take part in, Christian Pierre, along with FISU Vice-president Leonz Eder and Verena Burk, chair and vice-chair of the FISU international press committee, respectively, shed some light on the Universiade's governing body.
Burk covered the majority of FISU's history, from its 1947 inception, through the organization's development, which has seen it grow to 163 member federations from all five continents. She also enlightened the young journalists to the fact that FISU does, in fact, operate outside the Univerisades. During years in which there are no University Games, FISU hosts separate World Championships in 33 different sports, which go beyond the Universiade's compulsory events to include such obscure athletic pursuits as woodball, a kind of golf-croquet particularly popular in Asia.
Pierre then discussed how FISU attempts to combat its lack of popularity, which he concedes is the organization's biggest obstacle. "That's our biggest problem," he said. "No one knows who is competing in our games because they're all student athletes."
To try and promote the organization and its events, FISU issues a quarterly magazine and regular press releases, while being active on social media platforms like Twitter and Facebook.
For this year's Universiade in Shenzhen, FISU has taken promotion to a new level. For the first time in University Games history, live video of 20 or the 24 Universiade events will be hosted on the FISU website. This is in addition game highlights being available on demand.
Related stories
Editor:Wang Xiaomei |Source: CNTV