The reality TV star - whose biological dad, Robert, passed away in 2003 to esophageal cancer at the age of 59 - admitted she is fearful of falling over and fainting during the ceremony of her marriage to basketball player Kris Humphries on Saturday (20.08.11).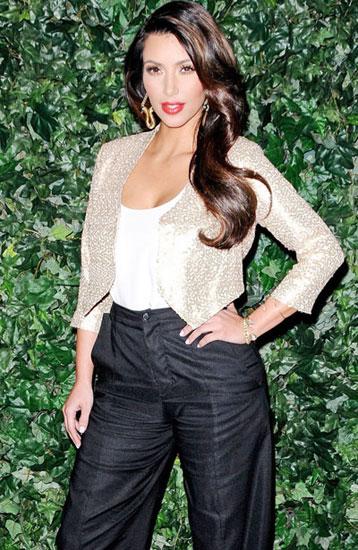 Kim Kardashian is "so nervous" about walking down the aisle
on her wedding day.
Speaking to Extra's Mario Lopez, Kim - whose mother Kris has been married to Bruce Jenner since 1991 - explained: "I was so nervous to walk down the aisle by myself.
"For some reason I wasn't thinking, like, 'Oh, Bruce will be there right with me,' so I was thinking, 'I'm gonna fall, I'm gonna faint, oh my God, my train!' "
The 30-year-old socialite - whose dress will be designed by her close friend Vera Wang - has been seeking advice from supermodel Tyra Banks about the gown prior to her big day.
The talk show host told People magazine: "I gave [Kim] the advice of going with a silhouette that the world isn't used to seeing her in. So we'll see."
Despite her nerves, Kim recently explained the wedding planning process has been "more" than she could have hoped for.
She said: "I mean it's been so like everything that I have dreamed of and more. I had no idea how much work really goes into wedding planning and I really do have this newfound respect for Sharon Sacks, my wedding planner!"
Related stories
Editor:Yang Jie |Source: China Daily