NEW YORK, Aug. 16 (Xinhua) -- NASA's Atlantis Shuttle crew was greeted by hundreds of young people on Tuesday at American Museum of Natural History (AMNH) for the celebration of their historic final mission completed on July 21.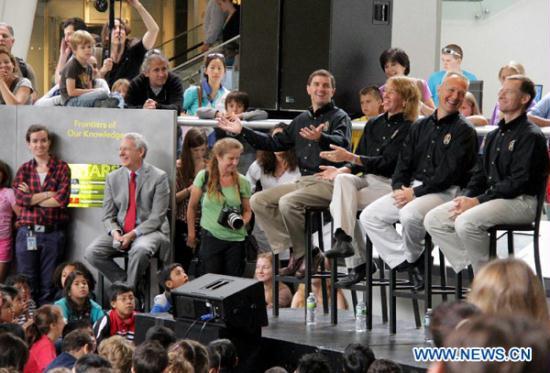 Four astronauts of the Space Shuttle Atlantis Christopher Ferguson, Douglas Hurley, Sandy Magnus and Rex Walheim (from R to L) meet children at American Museum of Natural History, New York, Aug. 16, 2011. It was their first public appearance in New York after the Space Shuttle Atlantis completed its final mission STS-135 on July 21, 2011. (Xinhua/Wang Chengyun)
At their first New York public appearance since their final mission, the four astronauts from space shuttle Atlantis, Commanders Chris Ferguson, Pilot Doug Hurley, and Mission Specialists Sandy Magnus and Rex Walheim, shared their experiences of flying on the last-ever flight of the 30-year shuttle era and answered questions from children.
"We go around the earth every 90 minutes, and we go 17,500 miles an hour, which means for the first 45 minutes, we are in front of the earth where it's nice and light, just like in the daytime," said Walheim.
"But when you go behind the earth, the lights go out. So the next 45 minutes, you have to use the helmet lights to be able to work in the dark. But it's a great thing to do, and we have a lot of fun there," he added.
Ferguson and his crew launched July 8 on NASA's 135th and final space shuttle flight, a delivery mission to the International Space Station to stock up the outpost with spare parts. The shuttle landed July 21, ending the STS-135 mission and NASA's 30- year space shuttle program.
Related stories
Editor:Wang Xiaomei |Source: Xinhua