The second oldest male silverback gorilla in captivity in the world received a bouquet of roses on his 50th birthday, but he apparently showed more love to his banana-shaped birthday cake and devoured in seconds.
Living at Longleat Safari Park, Wiltshire, UK, the oldest silverback in Europe's oldest silverback Nico has been spoilt and pampered by staffs. He lives by himself on an island in the middle of a lake and his home has central heating and even a TV.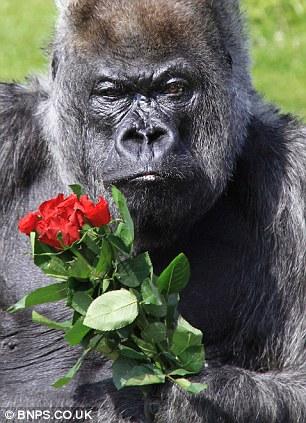 Nico, Europe's oldest gorilla, was not keen on the
roses he was given as a 50th birthday gift by staff
at Longleat Safari Park, who think he was hoping
for a bigger present.
Nico arrived at Longleat after the park opened in 1966, from a zoo in Switzerland.
The oldest gorilla in the world in captivity is Colo, a female who was born in 1956. She lives at Columbus Zoo, Ohio, USA.
The oldest male gorilla in the world is Ozoum who lives in Atlanta Zoo and was born a few months before Nico in 1961.
That's more like it: Nico was far happier with his banana shaped birthday cake and wolfed
it down in seconds.