TRAINING, making friends… what else can foreign athletes do in the Universiade Village? Learn about traditional Chinese culture.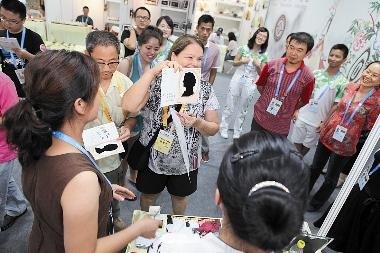 American fencer Emily Cheng displays a silhouette of herself in
the Universiade Village yesterday,August 16th.
Most athletes are in China for the first time and a visit to the cultural experience area in the village will reveal some surprises.
There is a number of traditional Chinese handcrafts being demonstrated in the area, such as fish skin painting, seal cutting, silhouettes, shadow plays, and embroidery.
"It is really amazing," exclaimed Emily Cheng, an American fencing athlete, when a craftswoman completed a silhouette of her in one minute.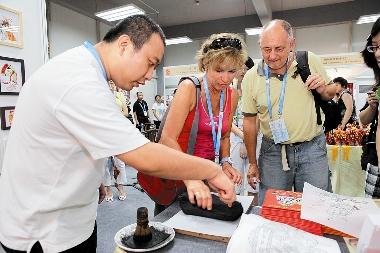 Two visitors try their hand at wood block painting in the Universiade
Village yesterday,August 16th.
"Although my father and grandmother used to teach me something about Chinese culture, my first real experience is exciting," said Emily, whose father is from Taiwan.
Emily's parents came to Shenzhen to support their daughter.
"I really love the way these handcrafts are promoted," said Emily's mother, Jenniene Cheng.
Zhao Guoqi, a wood block painting master from Shanxi Province, said "wow" was the most repeated word by foreign visitors.
"Some athletes tried wood block painting themselves and took their work home as a souvenir," said Zhao.
At an average age of 20, 34 exponents from the Shaolin Temple martial arts school in Songshan, Henan Province, performed Chinese boxing and qigong to non-stop applause.
Founded in 1988, the members of the school have visited more than 80 countries and regions, performing at the Kremlin in Russia and Broadway in the United States. "We are honored to display Chinese culture for foreign friends," said Chen Junjie, deputy head of the martial arts school.
The martial arts display is one of a number of cultural performances in the village each evening.
Editor:Wang Xiaomei |Source: Xinhua