By Chong Dahai, Vanessa Liberson
BRUSSELS, Aug. 16 (Xinhua) -- German Chancellor Angela Merkel and French President Nicolas Sarkozy unveiled extensive plans on Tuesday for closer eurozone integration, including deficit brakes, financial transaction taxes and biannual summits.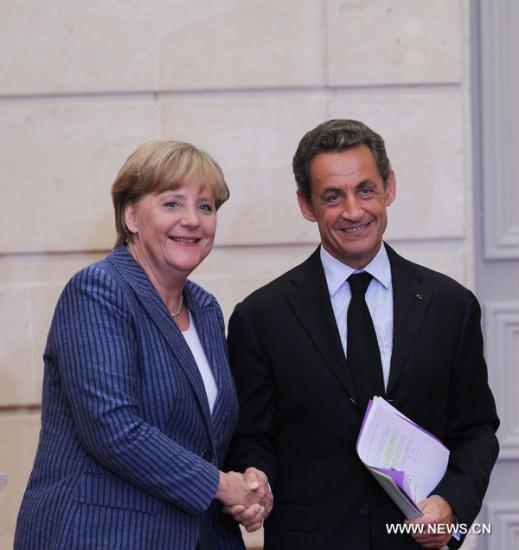 France's President Nicolas Sarkozy (R) and German Chancellor Angela Merkel pose for photos after a joint press conference at the Elysee presidential palace in Paris, France, Aug. 16, 2011. France and Germany said they want more united regulation, including an EU tax on financial transaction and common economic government to tame financial market volatility and guarantee growth. (Xinhua/Gao Jing)
But with few concrete measures announced, the meeting of the duet seemed to be more about boosting the markets' confidence.
The two leaders did send a clear message though: that bailouts alone should not be enough to defuse the sovereign debt crisis without closer economic governance.
Both sides proposed European Union President Herman Van Rompuy to head a "Euro-council", and suggested taxing financial transactions in September.
The two leaders also pledged to share an "absolute determination" to defend the euro.
Although those pledges sound promising, some analysts voiced their doubts, citing that the meeting barely produced anything new or useful.
Traders were disappointed when Merkel and Sarkozy said they saw no immediate need for the so-called "eurobonds" and insisted that the current 440-billion-euro bailout fund European Financial Stability Facility (EFSF) was "sufficient."
"The eurobonds are not expected today," Merkel said concisely, while Sarkozy stressed: "the eurobonds, we can imagine them at the end of the process of European integration, but not at the beginning."
German opposition to eurobonds is easily understandable.
"Interest costs for Germany and other AAA rated countries would go up, those of weaker borrowers would go down. It would be welcomed by the markets in the short-term, but it would raise questions about the political sustainability of EMU (European Monetary union) in the long-run." said Thomas Mayer, chief economist of Deutsche Bank Group, on commenting eurobond idea.
The problem may become striking should the two locomotives of eurozone, namely Germany and France, report weaker economic performances.