Courteney Cox is to direct an episode of 'Cougar Town'.
The former 'Friends' actress is already an executive producer of the series as well as its lead star, and for one episode in the forthcoming series she will also work behind the camera.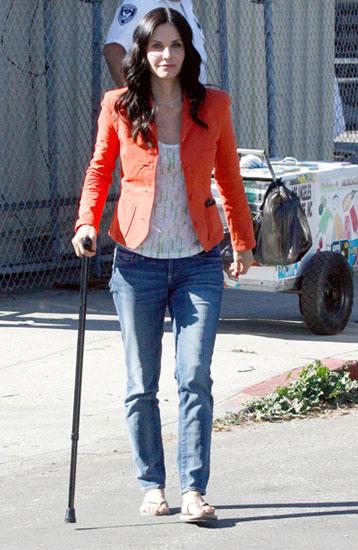 Courteney Cox is to direct an episode of 'Cougar Town'.
Though best known as an actress, Courteney has directed before, helming the 2008 short film 'The Monday Before Thanksgiving'.
While the show's executive producers - Bill Lawrence and Kevin Biegel - are happy with both Courteney and the programme's viewing figures, they are upset with its title, and earlier this year launched an appeal to find a new name.
Bill tweeted: "To answer many of you: Kevin and I titled the show. It helped sell it, plus we thought we'd do campy show about woman re-entering the world.
"Now 'Cougar Town' is a show about adult friendships and drinking. And it's called 'Cougar Town'. I hate myself. (sic)"
Bill had tried to change the show's name last year ahead of its second series, but both his suggestions - 'Sunshine State' and 'Grown Ups' - were rejected as they were too close to the tiles of existing programmes.
One of the favourite title suggestions from fans so far has been 'Friends with Beverages' as it makes reference to Courteney's old sitcom, and the large amounts of wine which get consumed by the characters in most episodes.
Other stars to direct the shows they appear in include John Slattery and John Hamm, who have both helmed episodes of 'Mad Men' and Kevin Connolly, who directed an episode of 'Entourage'.
Editor:Yang Jie |Source: China Daily