Beijing, Aug 17.(CNTV.CN) -- It's an important day of August 17th, 2011, when Joanna Syson came all the way from England to Beijing for a group of photos, which were lost 12 years ago. Wang Weiguo, along with many other people helped her retrieve the lost treasure of memory and drew a perfect ending to a recovery journey cross century and border.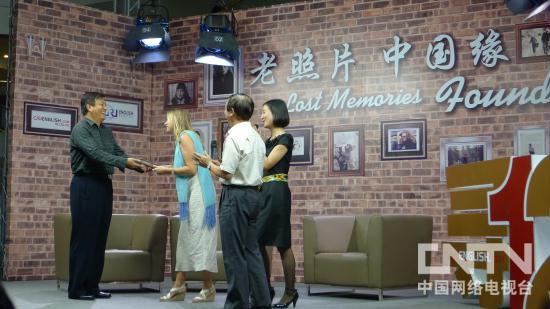 Wang Weiguo(L) hands a photo back to its owner Joanna Syson(C) at the ceremony, Aug 17,
2011, Beijing. (CNTV.CN/Zou Xian)
In 1999, Joanna was studying and working in Beijing when she suddenly had to return to Norway to finish making a film. She left her belongings, including some private photos to a friend. The film editing, however, took longer than expected. When she came back 6 months later, she lost contact with her friend.
"He'd just disappeared. I was absolutely devastated," said Joanna.
Wang Weiguo is an actor of the National Theatre of China, meanwhile an enthusiastic collector, who is among those regulars of Panjiayuan Flea market. He found a group of photo frames quite attractive, and brought them home. In the frames were some family photos belonging to a foreign lady.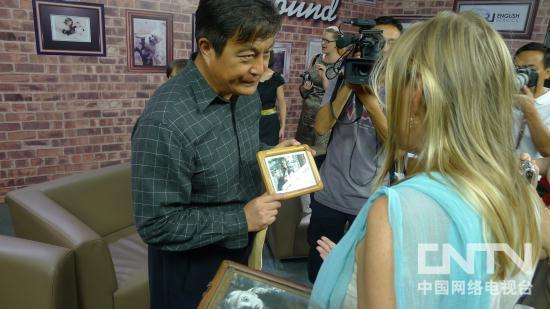 Wang Weiguo(L) showing his charactor in a famous Chinese play All Men Are Brothers, and
exchanges photos with Joanna(R), Aug 17, 2011, Beijing. (CNTV.CN/Zou Xian)
On the first meeting of the two protagonists, Wang Weiguo joked with Joanna, whose photos have been collected by him for 12 years, "In fact I met you long long ago, when you were a kid."
Joanna, owner of the photos said, "These photos were lost in 1999 when I left China. I can't believe that I can still find them. I highly appreciate that Mr. Wang kept these photos all the time."
"Our house in Norway burned down in a massive fire," she says. "And all of our family photos burned. Pretty much everything we owned went up in flames. And so therefore, obviously, these pictures become more valuable than one could ever imagine."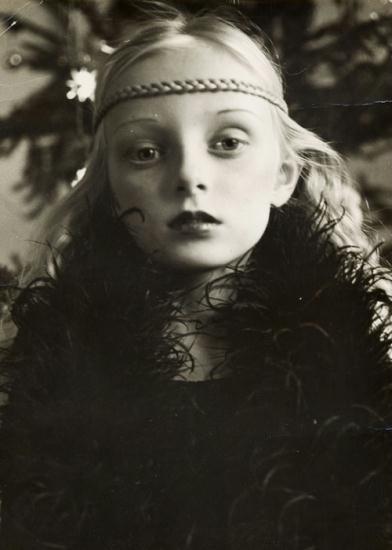 One of the lost photos, taken when Joanna was 5 years old,
imitating Judy Foster from a famous movie.The frame of this photo
was the first old stuff bought by Joanna in Panjiayuan, where
Wang Weiguo found it after it was lost.(Bryan Wharton)
Wang Weiguo said, "I was first attracted by the ancient photo frames, which were made perfectly without nails. Then I found that the pictures in them were all about a dolly-like girl. The photos recorded every important moment of her life: Baby babbling its very first sound, child disporting with mother, and college students in graduate ceremony… I don't believe they were thrown away on purpose."
"I thought the girl who lost them must be very worried. So I left that I had to find her and return them to her," said Wang.
During the past 12 year, Wang Weiguo has been searching for the owner. Contacting the police, asking foreign friends and help from media outlets, but the answer was simple: it's an impossible mission. Several times of moving, he persisted in keeping the old memories. "It's no big trouble taking these photos while I move, since I've already had a lot cases." Wang Weiguo said with a smile on his face.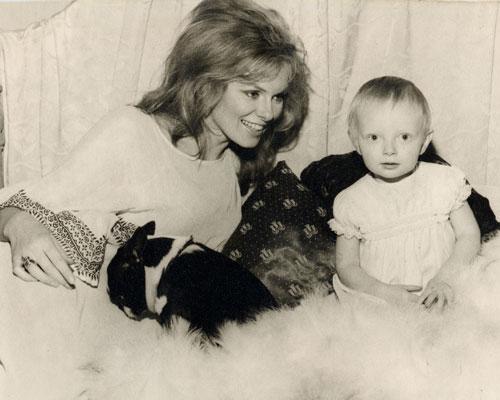 1- Joanna on her 1-year-old birthday with her mother Julie Ege, famous Norwegian actress
and model and former James Bond girl.
The long searching didn't work out well, until he met CCTV's host Zhang Zequn, who got him in touch with CRI, and spread out a worldwide searching activity. Thousands of netizens took part in the lent a hand. Then someone recognized Joanna's mother the late Julie Ege, in one of the picture. Ege was a famous Norwegian actress and model and former James Bond girl.