BEIJING, Aug. 18 (Xinhuanet) -- U.S. Vice President Joe Biden will start a six-day visit to China on Aug. 17. Will his visit consolidate the upward momentum of stable and positive China-U.S. relations?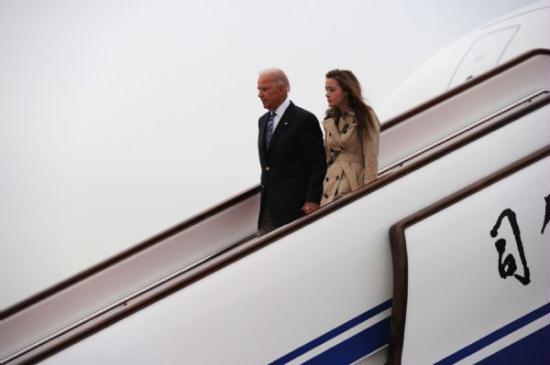 Vice President of the United States Joseph Biden (L) steps down the airplane in Beijing, capital of China, on Aug. 17, 2011. Biden makes the visit at the invitation of Chinese Vice President Xi Jinping. (Xinhua/Li Xueren)
Obama's right-hand man
Biden's visit is the first of the planned reciprocal visits between the vice presidents of the two countries announced during Chinese President Hu Jintao's state visit to the United States in January. It will help the United States adjust its future policy toward China and ensure stable bilateral relations.
Yuan Peng, director of the Institute of American Studies under the China Institutes of Contemporary International Relations, said that from an international perspective, the U.S. debt crisis has seriously jeopardized the world economy. China, the largest foreign holder of U.S. debt, has maintained close economic ties with the United States, and both countries have practical needs to coordinate interests through dialogue.
From a U.S. domestic perspective, Barack Obama needs someone to shoulder the diplomatic burden so he can focus on next year's presidential elections. As Hillary Clinton does not plan to serve a second term as the Secretary of State, it is certain that Obama will rely more on Biden, a veteran dovish diplomat, in developing foreign policy toward China. This is another important context for Biden's upcoming trip to China.
Biden had visited China twice — once in 1979 and 2001. He expressed clear opposition to treating China as a potential enemy and stressed that China and the United States share common interests. Yuan said that by visiting China again after 10 years, Biden will have a deeper and better understanding of the peacefully rising country. This visit is expected to produce a relatively profound impact on his future decision-making about China.