A CHINESE Universiade athlete found her long-lost cousin from New Zealand at the Universiade Village a few days ago.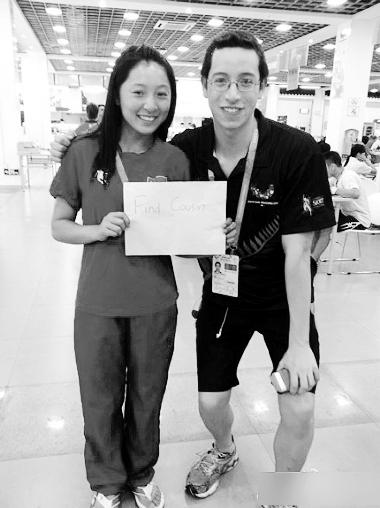 Xu Le and her cousin Carsten. By courtesy of Xu Le
"I found my cousin Carsten. He is the grandson of my grandfather's sister and came to compete in swimming for New Zealand," said Xu Le, who participated in golf at the Universiade, in her microblog Tuesday,August 16th.
The microblog has been viewed and forwarded more than 1,000 times. "What an amazing fate and experience," said many netizens.
Xu, 22, from Beijing, said they had spent about five minutes together because they had to prepare for their events. "But the short meeting was very happy and we've already left our contact numbers and will make contact again after the Games," she said.
Carsten was unable to be reached because he had to prepare for the Games, yesterday(August 17th)'s Chinese newspaper reported.
Xu's grandfather's sister went to the United States many years ago and married an American. "She has kept close contact with us and came back to visit us for the first time three years ago. After that, she came back quite frequently to visit my grandmother," she said.
However, her great-aunt had never told them about her grandson in New Zealand.
A few days ago, the great-aunt told Xu's grandfather that one of her grandsons living in New Zealand was now competing in the Universiade in Shenzhen."My grandfather was very excited because I was competing in the Universiade in Shenzhen as well, so he gave me my cousin's phone number and we had to meet," Xu said.
Xu arranged a meeting with Carsten, 20, through a text message Monday,August 15th. "I wrote'Find Cousin'on a piece of paper and he recognized me immediately," said Xu.
"It was a pity that we could not talk long and we did not have time to watch each other's events, but we will talk more on the Internet in the future. I also invited him to visit me and my family in Beijing," she said.
Related stories
Editor:Wang Xiaomei |Source: Xinhua