EVERYTHING, friendship, lifetime experience, public participation, wonderful experience and smiling faces: These were key words spoken by the officials of seven delegations yesterday to express their impressions of the Shenzhen Universiade.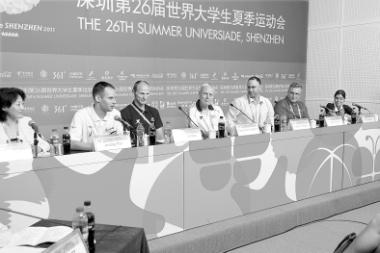 Officials of seven delegations attend a press conference
yesterday.Li Hao
Invited by the Games organizing committee, officials from Slovenia, Britain, the United States, Australia, Canada, Brazil and Thailand met the press on August,21th to share their thoughts.
The officials said they had been impressed by the hundreds of thousands of volunteers serving the Games.
"We did not know what to expect when we came here. However, we have been impressed by the number of volunteers, outstanding facilities and high performance by fellow students," said Andrej Pisl, head of the Slovenian delegation.
"It is the best organization we have seen. As Slovenia will hold the Winter Universiade in two years, we have learned a lesson of hospitality and organization from Shenzhen," said Pisl.
Having taken part in 17 Universiades, Gary Cunningham, the head of the American delegation, said their goals had been achieved in Shenzhen.
"Our first goal was for our athletes to do their best, the second was for them to learn more about China and Shenzhen and third was for them to mingle and get to know other students," said Cunningham.
Head of the Australian delegation, Martin Roberks, said the Shenzhen Games had set a new standard for large sports events, which would be hard to surpass.
"This is my third Universiade, which is also important for Australia, because it helps our athletes prepare better for the Olympics next year," he said.
There are about 160,000 Chinese students studying in Australia while there were about 4,000 Australian students in China, he said.
Graeme Maw, head of the British delegation, hoped the sports facilities built for the Games would be used by local communities.
"In the United Kingdom, the sports venues are used as national training centers for professional athletes after large events. Meanwhile, schools with insufficient sports facilities can be given free access to some venues," Maw said.
Related stories
Editor:Wang Xiaomei |Source: www.sz2011.org