AN American headset, a German doll, an Italian tie… more than 200 gifts have been given by 118 delegations when they checked into the Universiade Village.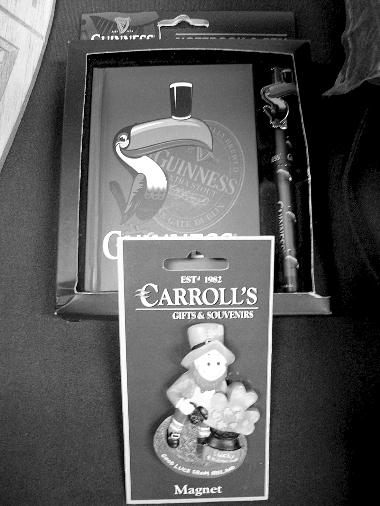 Stationery set and pin from the Irish delegation. Li Hao
The gifts are on display in a large room in the administrative center at the village.
"Each gift represents a unique culture and custom of its country," said Wang Xinyan, deputy manager of the archives in the village.
The gift from the Mexican delegation was a traditional broad-brimmed high-topped hat worn during fiestas in the country.
The golden stitches were all embroidered by hand, Wang said.
In return, the Chinese hosts gave foreign guests a wooden box in the shape of the village with a village map carved on the surface.
Inside, there is a traditional Chinese stamp and a jeweled mirror compact.
The village committee is considering keeping all the foreign gifts, as well as words written by foreign visitors, in a Universiade museum, which is expected to be built after the Games.
Related stories
Editor:Wang Xiaomei |Source: www.sz2011.org