BEIJING, Aug. 28 (Xinhuanet) -- It is said that nature is at its most creative in Zhangjiajie, the first national forest park that China established in the northwestern part of Hunan province.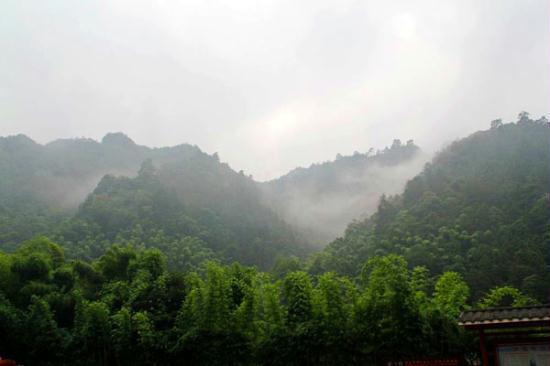 Mountains covered in lush green trees under the morning sunlight. (Photo:CRIENGLISH.com)
Its bizarre-shaped rock mountains, forbidding deep canyons and powerful waterfalls form ever changing scenery due to the varied climates. The forest park was put on UNESCO's list of world natural heritage sites in 1992 for its geological and tourism value.
This series of photos taken in August by professional photographers captured the scenic area at the height of summer. Due to the extensive foliage which provides cover for innumerable waterfalls, temperatures in Zhangjiajie are exceptionally cool and thus the location is a favored travel destination in summer. Because of the frequent rain, the mountain peaks are often seen submerged in thick mists formed by moisture-rich air from July through to August.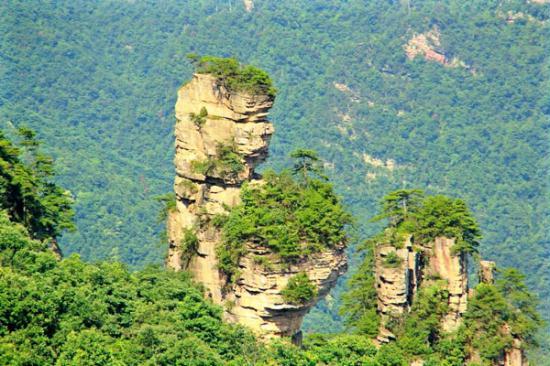 Giant rocks in various shapes rise boldly from the mountains in the forest park. (Photo:CRIENGLISH.com)
The forest park is also full of rare plants and wildlife. It is home to medicinal herbs like ganoderma and the fleece flower root. State protected animals such as the south China tiger can also be found in Zhangjiajie.
The best season to visit Zhangjiajie is between April and October when the weather is the most pleasant and the wildlife most active.
How to get there: Hehua airport in Zhangjiajie has opened direct flights to major Chinese cities including Beijing, Shanghai, Nanjing and Guangzhou. Zhangjiajie city is also connected by highways and trains to Changsha, the capital of Hunan province.
Editor:Wang Xiaomei |Source: Xinhua