TOKYO, Aug. 28 (Xinhua) -- Candidates to succeed outgoing Prime Minister Naoto Kan for the leadership of the Democratic Party of Japan (DPJ) began campaigning Saturday and outlined their key policies they hope will ensure they receive enough backing from within the ruling party to secure their passage to the top-post.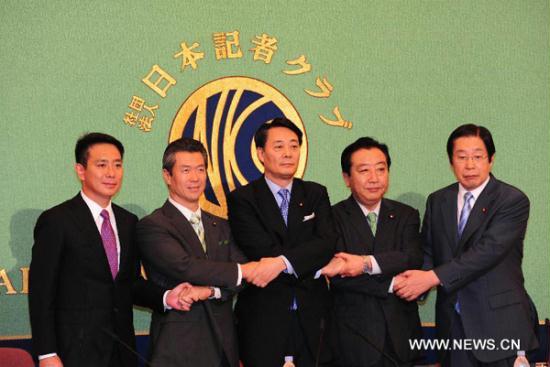 Japan's former foreign minister Seiji Maehara, former transport minister Sumio Mabuchi, Minister of Economy, Trade and Industry Banri Kaieda, Finance Minister Yoshihiko Noda and Minister of Agriculture, Forestry and Fisheries Michihiko Kano (L-R), candidates for the ruling Democratic Party of Japan presidential election, attend a press conference at the National Press Club in Tokyo, Japan, on Aug. 27, 2011. Five Democratic Party of Japan (DPJ) lawmakers filed their candidacy papers for the ruling party's presidential election on Saturday, just one day after Prime Minister Naoto Kan officially announced he will step down as the ruling party's leader. (Xinhua/Ji Chunpeng)
The five candidates who have thrown their hats onto the ring to battle for the new leadership post took part in a joint news conference at the Japan National Press Club in Tokyo on Saturday, to signal the direction they would take on key policy issues to steer Japan through a myriad of pressing economic, social and post- March 11 disaster related matters.
Many political pundits have suggested the large number of candidates attempting to succeed Kan is due to a combination of factors including intraparty affiliations and these parties' future directives and philosophies, which can only be achieved by currying enough support from the 398 DPJ lawmakers eligible to vote, coupled with these groups' intentions going forward into the next lower-house elections, which can be called anytime between now and 2013.
Following the crisis at the Fukushima Daiichi nuclear power plant, triggered by the twin disaster in March, Kan said Japan should become a country that does not need to rely so heavily on nuclear power, which rattled the cages of some senior lawmakers in a government who prior to the disasters had laid out wholesale plans for the building of more nuclear facilities and the exporting of nuclear technologies to foreign countries.
Hence, during the press conference Saturday, among a number of key differences in policy stances, the future of Japan's energy stratagem was particular standout.