Related stories
WASHINGTON, Aug. 26 (Xinhua) -- The U.S. economic recovery from the crisis is less robust than the central bank's expectation, but the U.S. central bank will not roll out a new round of quantitative easing (QE) monetary policy now, U.S. Federal Reserve Chairman Ben Bernanke said Friday.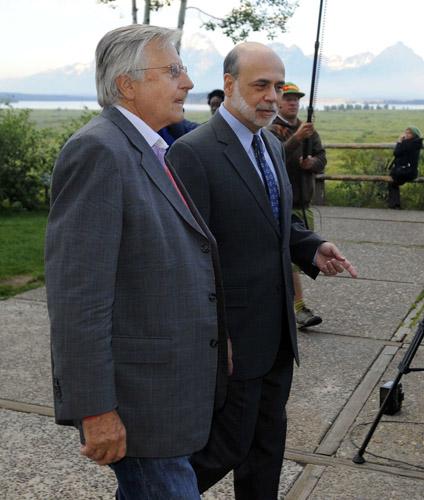 U.S. Federal Reserve Chairman Ben Bernanke (R) walks with European Central Bank
(ECB) President Jean-Claude Trichet at the Federal Reserve Bank of Kansas City
Economic Policy Symposium in Jackson Hole, Wyoming, August 26, 2011. Bernanke
on Friday stopped short of signaling further action to boost the U.S. recovery,
but said it was critical for the economy's health to reduce unemployment. (Xinhua/Reuters Photo)
The United States is confronted with a two-fold economic challenges in the near term, the central bank chief said at the Federal Reserve Bank of Kansas City Economic Symposium held in Jackson Hole in the U.S. State of Wyoming.
The first challenge is to help the U.S. economy further recover from the crisis and the ensuing recession, and the second is to allow the economy to realize its longer-term growth potential, noted Bernanke.
Bernanke did not specify a widely-scrutinized third round of QE monetary policy (QE3) to stimulate the faltering U.S. economic growth in his key policy speech.
Judging from the most recent estimates of growth in the first half of this year, "we have learned that the recession was even deeper and the recovery even weaker than we had thought", he told a group of central bankers.
Friday figures from the Commerce Department showed that the U.S. economic growth rate was downwardly revised to an annual rate of 1 percent in the second quarter of this year from the previous estimate of 1.3 percent, due to weaker growth in business inventories, waning exports and declining spending from state and local governments.
"Importantly, economic growth has for the most part been at rates insufficient to achieve sustained reductions in unemployment, which has recently been fluctuating a bit above 9 percent," he added.
Bernanke predicted that the United States could witness better economic performance in the second half of this year, as the influence of high commodity prices and global supply chains disruption caused by the Japanese disaster recedes.
He contended that both a very deep slump in the housing market and a historic financial crisis in tandem with the severe recession have made the current recovery "slow and erratic".
"Financial stress has been and continues to be a significant drag on the recovery, both here and abroad. Bouts of sharp volatility and risk aversion in markets have recently re-emerged in reaction to concerns about both European sovereign debts and developments related to the U.S. fiscal situation," he added.
He stressed that the current economic conditions, including low rates of resource utilization and a subdued outlook for inflation over the medium run, are likely to warrant exceptionally low levels for the federal funds rate at least through mid-2013.
The Fed will continue to assess the economic outlook in light of incoming information and is prepared to employ its tools as appropriate to promote a stronger economic recovery in a context of price stability, Bernanke added.
He said that the central bank has changed the one-day September monetary policy meeting schedule to a two-day one to have a fuller discussion of U.S. economic and financial developments.
To achieve economic and financial stability, U.S. fiscal policy must be placed on a sustainable path that ensures that debt relative to national income is at least stable or, preferably, declining over the long run, he prodded.
He noted that it is difficult to judge by how much the financial stress including the downgrading of the U.S. long-term credit rating has affected economic activity, but there seems little doubt that it has hurt household and business confidence and has posed ongoing risks to economic growth.
Bernanke said that the United States would be well served by a better process for making fiscal decisions to avert market uncertainties.
Related stories
Editor:Wang Xiaomei |Source: Xinhua