It is quite an experience to stand next to rumbling waterfalls and hear the plummeting water pounding against the rocks.We invites you to witness the power of nature with this list of top 10 most beautiful waterfalls in China.
NO.10 Magu Wonderland Waterfall
The Magu Wonderland Waterfall, located at the base of Mount Heng in Hunan Province, flows down along three steps from a pool.
According to legend, Magu Wonderland was the place where the palace maid Magu celebrated the birthday of her master Lady Wei, the earliest nun at Mount Heng.
Magu Wonderland Waterfall. [Photo: CIIC]
Tips
Best time to go: September-October and December-February
Entry: 100 yuan/person plus 3 yuan for insurance
NO.9 Detian Falls in Guangxi
The Detian Falls is located in Daxin County of Guangxi Zhuang Autonomous Region, straddling the Sino-Vietnamese border. It is the fourth largest waterfall in world after Iguazu Falls, Victoria Falls, and Niagara Falls and the largest in Asia along a national border.
The roaring waterfall is separated into three-tiered falls by rocks and trees, dropping more than 70 meters. It has a maximum width of 200 meters.
The waterfall is the largest naturally formed falls in Southeast Asia and has been identified as a top national tourist destination.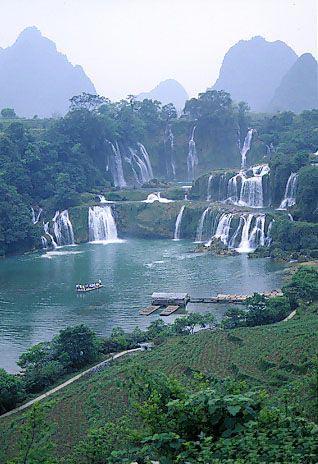 Detian Falls. [Photo: CIIC]
Tips
Best time to go: July-November
Entry: 80 yuan/person
NO.8 Hukou Waterfall in Shanxi Province
Located at the intersection of Shanxi Province and Shaanxi Province, the Hukou Waterfall is the largest waterfall on the Yellow River and the second largest waterfall in China after the Huangguoshu Waterfall in Guzhou Province.
The Hukou Waterfall is naturally formed when water in the middle reaches of the Yellow River flows through the Jinxia Grand Canyon. The width of the waterfall changes with the season. It usually stretches 30 meters wide but can increase to 50 meters during the rainy season.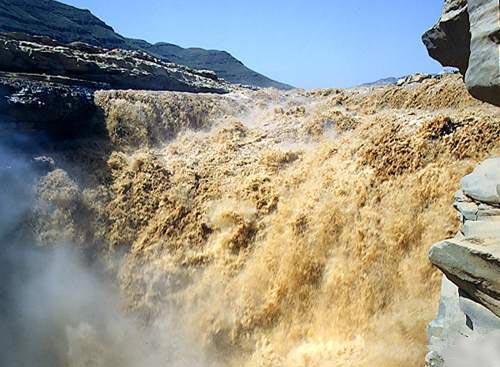 Hukou Waterfall. [Photo: CIIC]
Tips
Best time to go: April-May; September-November
Entry: 81yuan/person
NO.7 Jiulong Waterfalls in Yunnan
The Jiulong Waterfalls was voted one of the top six most beautiful Chinese waterfalls in a poll by "Chinese National Geography" magazine in 2005. It is a group of wide waterfalls at ten levels in Luopan County of Yunnan Province. The view of the falls varies level by level and they are connected with each other by shoals or pools, creating a fantasy world of water.
Yunnan is dubbed the "Red Earth Plateau" because more than half of its land is covered with red earth. During rainy season, the Jiulong Waterfalls is dyed red by the red earth it carries, making it popular with tourists throughout China.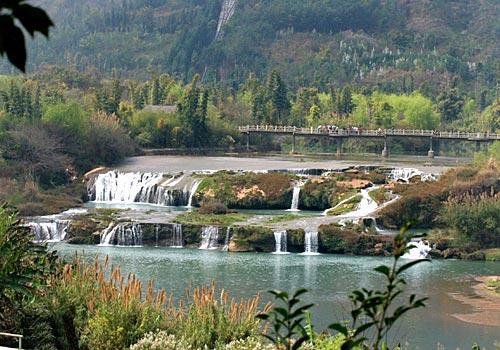 Jiulong Waterfalls. [Photo: CIIC]
Tips
Best time to go: summer and autumn, especially June and July
Entry: 10 yuan/person