SHANGHAI - An expert on animal studies in East China's Zhejiang province claims that a photo of a black bear in the wild proves they still inhabit the region even though it is the first sighting of one in the forests for 11 years.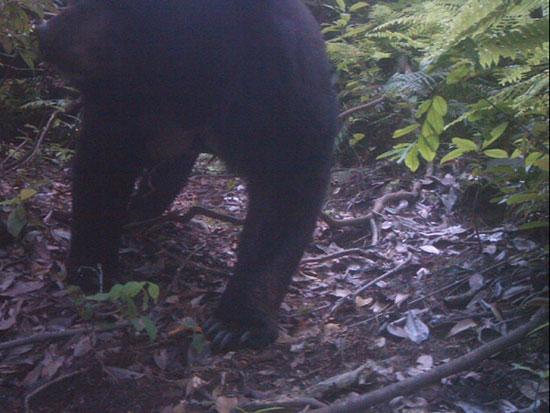 The first black bear seen in the wild in Gutian Mountain in Kaihua county of Zhejiang's
Quzhou city is captured on camera on June 9, which experts say proves the bears still
inhabit the region.[Photo/China Daily]
"I recognized it was a black bear in the photo at first sight, by its color, shape, fur and paw," Bao Yixin, a professor at the College of Chemistry and Life Sciences of Zhejiang Normal University, told China Daily on Thursday.
Bao set up cameras in Gutian Mountain, a national-level nature reserve in Kaihua county of Zhejiang's Quzhou city.
"We collect the photos once every three months. The record shows that the photo was taken on June 9," he said.
The forestry department of Zhejiang province has confirmed that it is the first time that the province has had any sighting of a black bear in the forests for 11 years.
According to Bao, a survey initiated by the provincial forestry department in 1999 found that there were less than 60 black bears in Zhejiang province at that time.
"Because they have not been seen in the past 11 years, we don't know the number now. However, the finding this time will definitely encourage further research," he said.
Cai Chunmo, was one of the members of staff from the Zhejiang Museum of Natural History, who took part in the 1999 survey. He said that quite a few of the residents in the mountain areas in eastern and southern Zhejiang had seen black bears in the past, but the number of sightings gradually lessened until they stopped altogether.
"It is mainly because of the destruction of the forests, as well as the illegal hunting of the bears for their gall bladders, bones and palms," he said.
He added their survey showed that at least 60 black bears were killed in the 1990s.
A recent video clip posted online, in which two men beat a black bear with ropes in Shanghai Wild Animal Park, has aroused calls for the protection of black bears.
The park has confirmed that the incident did happen, but they said the two men were with a training team from Anhui province, who brought the bear to Shanghai.
Nonetheless, the Shanghai Wild Animal Protection Station said the men were maltreating the bear and asked the park to investigate the incident and punish the people involved.
Editor:Yang Jie |Source: China Daily