MIAMI - Tom Brady began his 2011 campaign with a brilliant display of run-and-gun offense, throwing for a team-record 517 yards and four touchdowns as the New England Patriots defeated Miami 38-24 on Monday.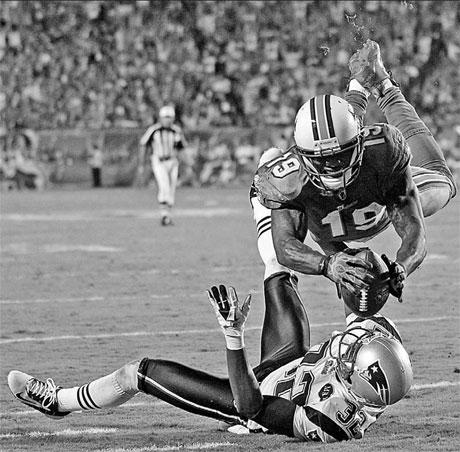 Miami Dolphins' Brandon Marshall (19) dives over New England Patriots' Devin
McCourty after catching a pass during the third quarter of their NFL game in
Miami, Florida, on Monday. Hans Deryk / Reuters
The reigning league MVP also connected on a 99-yard pass to Wes Welker and the Patriots have now won every season-opening game dating back to 2004.
"I only threw it 25 yards. Wes did all the work," Brady said. "When I saw him break away, that was awesome. Coach never lets us run that route in practice."
In the evening game on Monday, Sebastian Janikowski tied an NFL record with a 63-yard field goal as the Oakland Raiders defeated the Denver Broncos 23-20.
The only sour note on the night for Brady was an interception he threw which snapped his NFL-record streak of 358 passes without being picked off.
Other than that it was a record-setting night for Brady, who connected on 32 of 48 passes in compiling the fifth-most passing yards in an NFL game.
Brady's 99-yard touchdown pass to Welker with just under six minutes left in the game gave him 511 yards and vaulted him past the Patriots' record of 426, set in 1994 by Drew Bledsoe.
Last year he tossed for 36 touchdowns as the Patriots led the league in scoring. On Monday, New England racked up 622 total yards, the most in franchise history and the most allowed by the Dolphins.
Brady became the 11th quarterback to throw for at least 500 yards and he came close the all-time record of 554, set by Norm Van Brocklin in 1951.
Editor:Yang Jie |Source: China Daily