KABUL - NATO attack helicopters circled over an unfinished building in the centre of Kabul early on Wednesday in an operation to flush out Taliban fighters, more than 15 hours after the insurgents launched their biggest assault on the Afghan capital.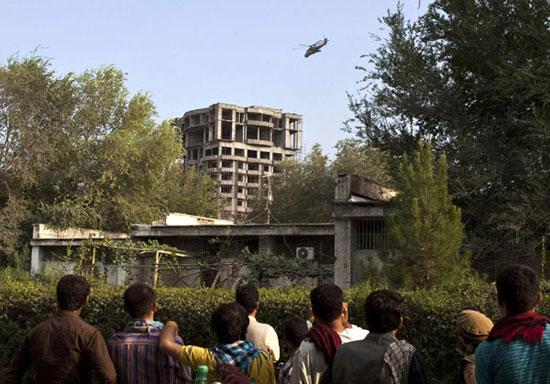 People watch as an Afghan helicopter flies next to the building which the Taliban
insurgents took over during an attack near the US embassy in Kabul Sept 13, 2011.
[Photo/Agencies]
It was not known how many fighters were still holed up in the high-rise building near Kabul's diplomatic district from where they fired rockets at heavily-fortified US embassy and NATO headquarters.
"Forces are still working on clearing operations," a spokesman of the NATO-led International Security Assistance Force told Reuters, in what is turning out to be the longest sustained attack on Kabul since the US-led invasion a decade ago.
A source in the office of the Kabul police said fighting began again early on Wednesday, but he had no more information.
A Taliban spokesman in a text message to Reuters said the group's fighters were well and fighting foreign forces.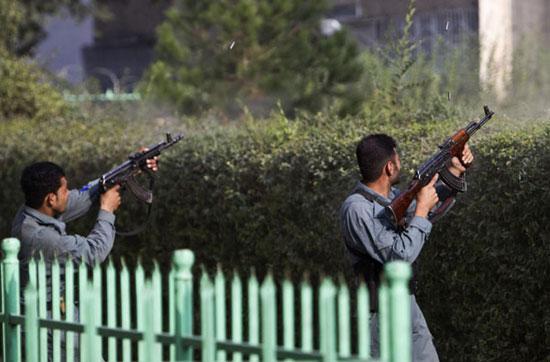 Afghan policemen fire toward a building which the Taliban insurgents took over during an
attack near the US embassy in Kabul Sept 13, 2011. A civilian was killed and 16 people
wounded in a Taliban attack in Kabul's heavily fortified embassy district on Tuesday, an
Afghan health ministry spokesman said. [Photo/Agencies]
A squad of about five insurgents took over the shopping centre under construction on the outskirts of Kabul's diplomatic district on Tuesday, armed with rocket-propelled grenade launchers, AK-47 assault rifles and suicide vests.
Explosions were interspersed with gunfire all afternoon and several rockets landed in the upmarket Wazir Akbar Khan district, near the British and other embassies. One hit a school bus but it appeared to have been empty at the time.
The gun battle around Abdul Haq square went on into the early evening, with three attackers killed and one or two still at large nearly eight hours after the assault began, the Interior Ministry said.
The insurgents also launched attacks in three other areas of the capital, in the biggest challenge to foreign forces as they prepare to hand over security responsibilities to Afghan forces across the country by 2014.
Related stories
Editor:Yang Jie |Source: China Daily