Manchester's 'other side' seeks to make its mark on grand European club stage
PARIS - Madrid, Manchester, Milan, Munich. The "M" factor has been a feature of the recent history of Europe's premier club competition - but there is a new kid on the block this season with the arrival on the Champions League stage of big-spender Manchester City.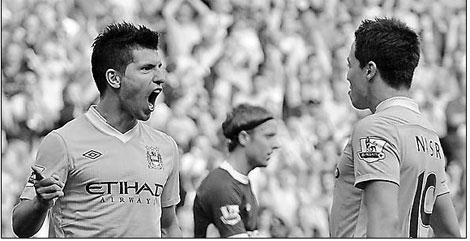 Manchester City's new signings, Sergio Aguero (left) and Samir Nasri, are expected
to lift the team higher in the Champions League. Nigel Roddis / Reuters
Owner Sheikh Mansour bin Zayed Al Nahya at City has transformed the "other" Manchester club and with his millions bankrolling the side it is now a case of dial M for money - even if Wednesday will see United taking on Benfica in a nod to history, those two sides having contested the 1968 final.
Having finally gatecrashed the top four in the English Premier League to qualify for the first time, City has been drawn in Group A alongside former champion Bayern Munich, Italy's Napoli and Spain's Villarreal.
But Roberto Mancini's men know all too well from the experience of the sheikh's fellow billionaire owner Roman Abramovich, that money may buy you entry to the tournament - but it still cannot guarantee you the trophy.
Abramovich has been unable to buy the biggest prize in the European club game despite hiring and firing a succession of top coaches and Mancini, who knows the size of the task awaiting him from his time in Italy, is astute enough to know it will take more than unparalleled cash flow to land the Cup.
City keeper Joe Hart says his club may be a Champions League virgin but points out that many in his teammates have experience of the tournament - Carlos Tevez lifted the trophy with Manchester United in 2008 and Yaya Toure was also a winner with Barcelona.
Mancini's men, having amassed a squad with strength in depth in spades - Tevez remains while would-be replacement Sergio Aguero has hit the ground running, as witnessed by his six league goals to date - are expected to get out of the group at the very least even if their group appears one of the toughest.
"It's vital we have got players who have been there and even done it in the Champions League," said Hart.
"There's no doubt it's going to be a step up in class, but the fact many of the squad have proven themselves at this standard helps. It gives us great confidence."
Mancini's own experience of this stage shows a loss as a player in the 1992 final to Barcelona at Wembley - extra incentive, surely, to ensure the Catalan club does not this season become the first side to retain the Champions League and put to bed failed assaults as a coach with Lazio and Inter Milan.
"For us, it is important that we do well in the group and go to the second stage. (But) you don't just need a good team, you also need luck. People are looking at Manchester City now and are saying we have spent a lot of money.
"But in the summer there was a minimum of six or seven teams in Europe who spent more money than us," said Mancini, who will know all about Napoli dangerman Edinson Cavani and who warned Monday that "the first group game is always difficult".
For United, coach Sir Alex Ferguson has the advantage of having conquered the terrain twice - while the Scot will be hellbent on narrowing the gap in quality which Barcelona exposed in last May's final.
Ferguson will certainly not underestimate Benfica of all clubs - the Portuguese may have lost that 1968 final to a United side including George Best and Bobby Charlton but it embarrassed United in the 2005-06 season in knocking it out of the group stage - 40 years after Best had first destroyed the Eagles in the Stadium of Light.
"Benfica are always a handful. We always expect a difficult game there and I watched a couple of their matches away from home and they were absolutely brilliant," Ferguson said.
Armed with that knowledge, he is set to send out an experienced side compared with the youthful charges who have taken the Premier League by storm with 18 goals in four games - Tom Cleverley will definitely miss out after he suffered ligament damage.
Group C rivals Basel and Romanians Otelul Galati face off in Switzerland.
Four-time winner Bayern Munich, like United in explosive form thus far, will hope to get at least a point at Spain's Villarreal - winless in two La Liga games to date, but nevertheless whose tournament pedigree boasts a run to the semis in 2006.
Bayern has in contrast racked up four wins in five league games and thrashed Freiburg 7-0 at the weekend.
But "Villarreal will be a different kettle of fish," says playmaker Bastian Schweinsteiger.
So "it would be great to get off to a winning start. Every match will be decisive in this group".
Editor:Yang Jie |Source: China Daily