TRIPOLI, Sept. 20 (Xinhua) -- Clashes took place between the fighters of the Libyan National Transitional Council (NTC) and members of the security troops of the fallen leader Muammar Gaddafi around nightfall on Tuesday in central Tripoli, a Xinhua witness said.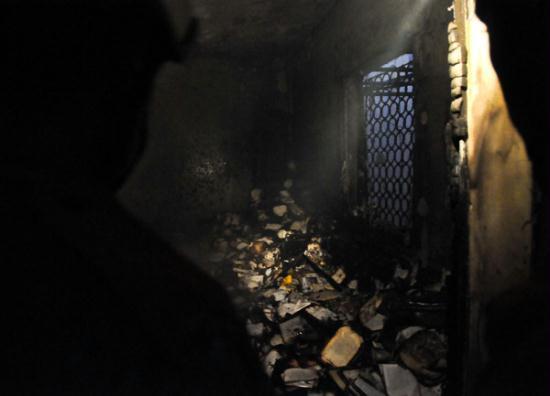 Firemen try to extinguish fire at General Amer Mousa's house -one of Gaddafi's superior
military councils- after being attacked by National Transitional Council (NTC) fighters in
Libya, Tripoli, Sept. 20. 2011. About 50 NTC fighters attacked the well-armed house of the
escaped General Amer Mousa, to capture his sons who were involved in mass killing.
(Xinhua/Amru Salahuddien)
The witness on the scene said four pro-Gaddafi members were arrested by the NTC after the exchange of fire.
The names of the captured could not be confirmed, but they were arrested from a building believed to be the house of a senior military official of the collapsed Gaddafi regime. Some witnesses said the arrested are all sons of the official.
Before the four were arrested, they fired rocket-propelled grenades from inside the building towards the NTC fighters, who received information about their location from the intelligent sources, the Xinhua witness said, adding that the NTC fighters immediately fired back, and the clashes lasted for about half an hour.
The building, close to the Bad Al-Azizya military compound, was set ablaze after the clashes, which killed no one, but caused slight injuries to some NTC fighters.
Sporadic gunshots are still common in the Libyan capital, especially at night, ahead of the NTC's announcement of the formation of a new government, which they have said will be within days.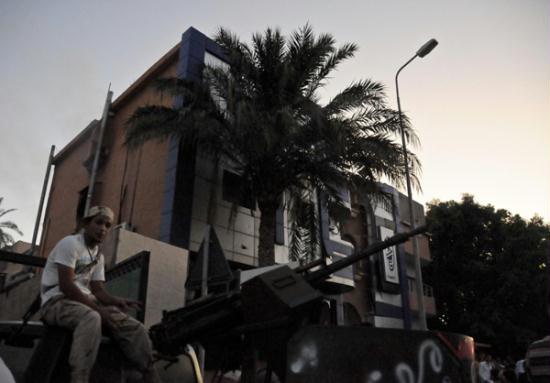 National Transitional Council (NTC) fighters gather around General Amer Mousa's house -one
of Gaddafi's superior military councils in Libya, Tripoli, Sept. 20. 2011. About 50 NTC
fighters attacked the well-armed house of the escaped General Amer Mousa, to capture his
sons who were involved in mass killing. (Xinhua/Amru Salahuddien)
Related stories
Editor:Wang Xiaomei |Source: Xinhua