The player naturalization issue has stolen the spotlight at the 26th FIBA Asia Championship and triggered a massive debate. The general feeling around the tournament is that the use of naturalized players is hampering some Asian countries' cultivation of their own talent, and incidents like the Qatari scandal have hurt the region's international image.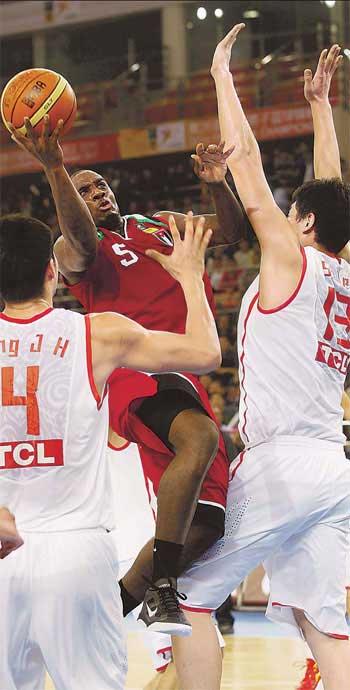 Jordan's naturalized player, Rasheim Ali Wright, tries a
shot on Tuesday as China's Ding Jinhui and Su Wei defend
during their Asia Championship matchup in Wuhai, Hubei
province. China's NBA star, Yi Jianlian, led the team
with 16 points and 12 rebounds as China beat Jordan, 93-60,
to advance to the eight-team knockout stage. Former NBA
player Wang Zhizhi added 10 points and five rebounds,
while Sun Yue, who played briefly for the LA Lakers,
contributed 14 points and three blocks. Cui Meng / China
Daily
However, some West Asian countries, which boast veteran foreign imports, claim it's the "only option" to enhance their rosters and help the young local players.
Still, it's not all as simple as that.
"It (playing with a naturalized teammate) feels different. We try to cooperate with him. But somehow, it is still hard to understand and communicate with each other on the court," said young guard Mohamad Al Braiki of the United Arab Emirates (UAE). "If I could choose, I would definitely prefer to play with my native guys. It's my country's team," he said.
"Actually, it feels like something is wrong when you stand with them to represent your country, especially when the national anthem plays," Qatari center Omar Salem said.
The naturalization issue didn't draw much attention until the Qatari squad played the "foul game" in protest of FIBA banning five of its naturalized players at the Wuhan event.
According to FIBA rules, each national team is allowed to have only one naturalized player with multiple nationalities while all the others should prove to have acquired citizenship of the country they represent before the age of 16.
Citing "not received any documents attesting its players' nationalities", FIBA Asia suspended five Qatari, two Filipino and a Syrian player from competing at the tournament on the day before tip-off.
To express their displeasure, the Qatari coach, Ali Ahmad Fakhroo, ordered his remaining five players to foul out purposely to end their first two group matches in a premature and ugly way.
"We naturalized some players from Africa. But we have nurtured them for years - since they came as teenagers. Our three-year effort has been wasted as they banned us for some ridiculous reasons," said Fakhroo.
"The five suspended players all contended at the Asian Games last year. As they could play then, why not now?" he said at the completion of the group stage in which Qatar lost all of its games.
According to China's major hoop media outlets, including Sina.com and Basketball Pioneers, FIBA Asia's internal power struggle was behind the sudden tightening of the naturalization rule and it was reported to be a fight against Sheikh Saud Bin Ali, the organization's Qatari president.
Although Qatar turned up to play a serious full-time game against Chinese Taipei with only five players and the team apologized to the fans, the negative effect left by its move is hard to erase.
Not only the spectators, but also renowned figures, including Iranian center Hamed Haddadi and China hoops icon Yao Ming, criticized the Qataris, stressing "they brought shame to Asian basketball and insulted the sport".
FIBA Asia also released a statement after the group stage to condemn Qatar's "irresponsible acts" while claiming it would take "further punishment on the move in a proper time".
"It has caused a minor aberration on the shine of the championship. We'll take actions, but we don't want to spoil the tournament now," said Dato' Yeoh Choo Hock, FIBA Asia's secretary-general.
However, the naturalization issue also has a positive side.
It has boosted the game's profile in some less developed countries while helping out young players through the experience of the seasoned "foreign" players.
The Philippines was the first country to benefit from foreign input when it started to draft American-Filipinos to reinforce its team 50 years ago.
The country clinched five Asian Championship titles from 1960 to 1985 before Jordan, Lebanon and Qatar emulated it to finish among the top sides at the 2009 tournament and last year's Guangzhou Asian Games.
"In some Western Asian countries, they (naturalized players) kind of helped to improve the basketball level and generate some interest about the sport there," renowned commentator Su Qun said.
"I think they will improve our games by the competition they bring. They will improve some country's national team's performances on the world stage," said Al Braiki.
Even Yeoh admitted some of the naturalized players came to "truly fight for their country's glory and help to expand the sport there".
The key is to find a balance through the regulations, said Lebanon's coach, Sarkis Ghassan, who has seen a "naturalization boom" in his country.
"I think we can find a happy combination (with young locals and experienced naturalized players) as long as we obey the rules.
"We will try to limit it. Counting on naturalized players is not what we want, but we have to do this because we have holes in our roster now. I think it's good for us to have a combination while trying to cultivate our own young guns," said Ghassan after losing to Chinese Taipei, 60-58, on Monday.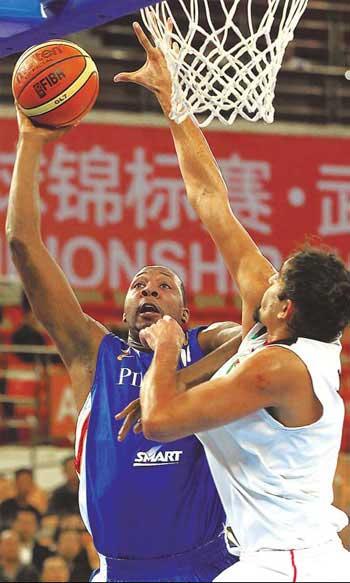 The Philippines' US-born center, Marcus Douthit (left),
makes a shot during the team's game against Jordan on Monday.
Disputes around naturalized players dominated the
conversation at the Asia Championship. Cui Meng / China Daily
Editor:Zhang Rui |Source: China Daily