BERLIN - When Pope Benedict visits his native Germany later this week, the anarchists, gays and radicals planning to protest against his presence should be the least of his worries.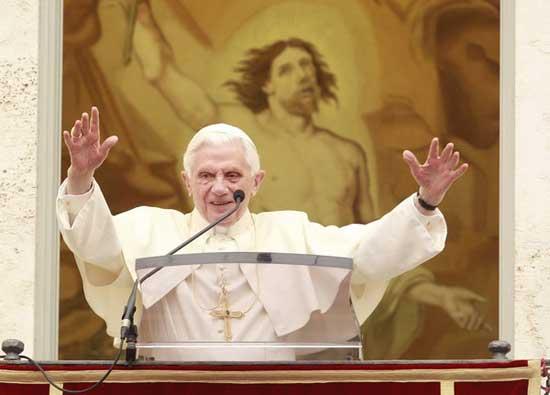 Pope Benedict XVI waves as he leads the Sunday angelus prayer from the balcony of his
summer residence in Castelgandolfo in southern Rome Sept 18, 2011. [Photo/Agencies]
His toughest critics come from the ranks of fellow German Christians.
Religion in Germany has a public edge the Bavarian pope doesn't often see, with politicians and Protestants as likely as Catholic parishioners to speak out against his conservative ideas.
A record 181,000 left the Catholic Church last year in protest against its sexual abuse scandals and increasingly conservative line. For the first time, that was more than those quitting German Protestant congregations and even topped the total number of new baptisms into the Catholic Church.
Among those who have stayed, many say the Church should reform its celibacy rule to counter the dwindling number of priests and allow Protestants married to Catholics to receive communion at Mass with their spouses.
Catholic theologian Hermann Haering told Reuters it was no surprise that Benedict should elicit such criticism in his native land.
"First of all, he's German," he said. "Emotions both for and against him have always been very strong.
"In a country where Catholics and Protestant populations are of equal size, all theological and church issues are much more clearly defined."
German churches traditionally have been seen as normative authorities, almost part of the state, he said.
"We don't have a liberal tradition, such as in the United States. These issues are not seen in the framework of a civil society."
Editor:Zhang Rui |Source: China Daily