NEW YORK, Sept. 20 (Xinhua) -- Seventeen people were injured after a building in New York City, U.S. collapsed Tuesday morning and struck a bus, which was picking up passengers, according to local media reports.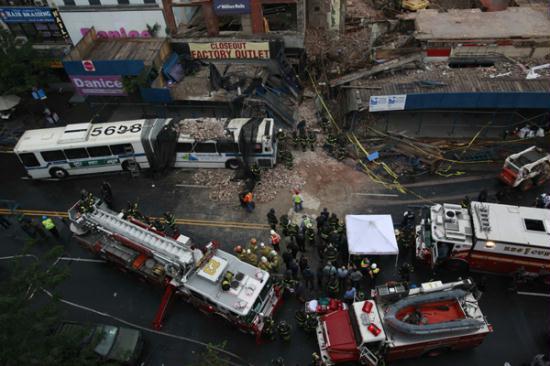 Fire crew work where a building collapsed onto a street and bus on the corner of 125th
Street and Frederick Douglass Boulevard in Harlem, New York September 20, 2011. Seventeen
people were injured and fire officials said the injuries were minor and not life-
threatening, local media reported. (Xinhua/Reuters Photo)
Local TV channel NY1 quoted a witness as saying that the bus was picking up passengers in front of the five-story structure when bricks fell onto the scaffolding before collapsing onto the bus.
The incident happened when the building was being demolished. The injured included several passengers, two police officers and a construction worker. None of the injured are life-threatening.
Early Sept. this year, local authorities received a complaint about fallen bricks at the site.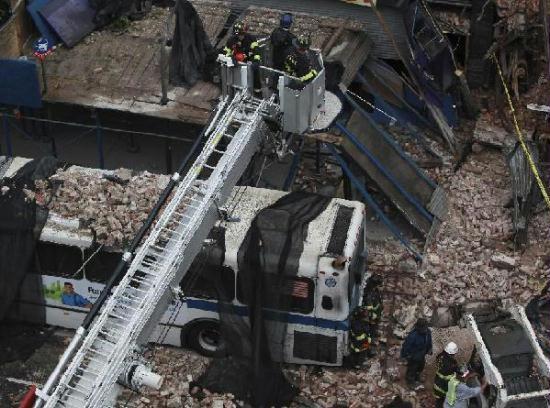 Fire crew work where a building collapsed onto a street and bus on the corner of 125th
Street and Frederick Douglass Boulevard in Harlem, New York September 20, 2011. Seventeen
people were injured and fire officials said the injuries were minor and not life-
threatening, local media reported. (Xinhua/Reuters Photo)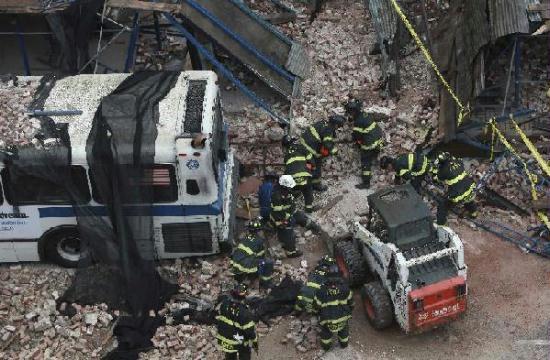 Fire crew work where a building collapsed onto a street and bus on the corner of 125th
Street and Frederick Douglass Boulevard in Harlem, New York September 20, 2011. Seventeen
people were injured and fire officials said the injuries were minor and not life-
threatening, local media reported. (Xinhua/Reuters Photo)
Editor:Wang Xiaomei |Source: Xinhua