HANGZHOU, Sept. 21 (Xinhua) -- About 30 tonnes of liquid alkali spilt onto an expressway in Zhejiang Province after a semi-trailer truck crashed into a tank truck early Wednesday, witnesses and the local government said.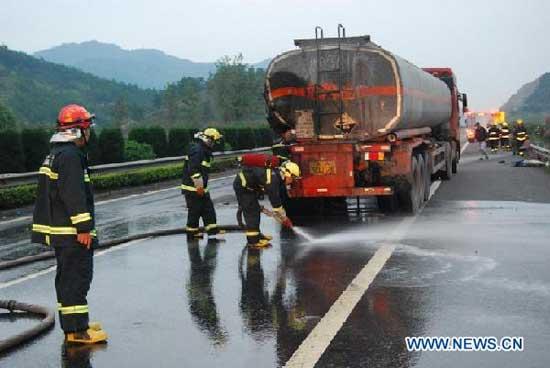 Firefighters dilute liquid alkali leakage near a tank truck which was rear-ended by a
trailer on the Hangzhou-Jinhua-Quzhou Expressway in Yiwu City, east China's Zhejiang
Province, Sept. 21, 2011. The accident, happened on Wednesday morning, causes the leakage
of liquid alkali from the tank truck which carried 30 metric tons of liquid alkall when it
was rear-ended. No casualties are reported. (Xinhua/Liu Leibiao)
The semi truck, en route from central China's Hunan Province to Shanghai, rear-ended the tank truck at around 4:50 a.m. in the small-commodities trading town Yiwu, a rescuer with the local fire brigade said.
He said the semi careened off the road after the collision but the two people aboard climbed out of its wreckage without injuries. The tank was also damaged in the crash, and all the liquid in its tank had spilt onto the road.
The road was closed for two hours as firemen diluted the alkali with water, the local traffic police authority said.
Traffic resumed at 6:40 a.m.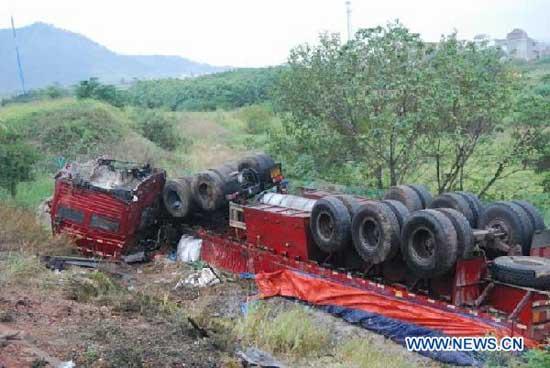 Photo taken on Sept. 21, 2011 shows a trailer lies upside down near the Hangzhou-Jinhua-
Quzhou Expressway in Yiwu City, east China's Zhejiang Province, Sept. 21, 2011. The
accident, happened on Wednesday morning, causes the leakage of liquid alkali from the tank
truck which carried 30 metric tons of liquid alkall when it was rear-ended. No casualties
are reported. (Xinhua/Liu Leibiao)
Editor:Yang Jie |Source: Xinhua