More opened-up markets for a few key sectors can help create a more dynamic and prosperous Chinese economy, U.S. Ambassador Gary Locke said in Beijing on Sep. 20.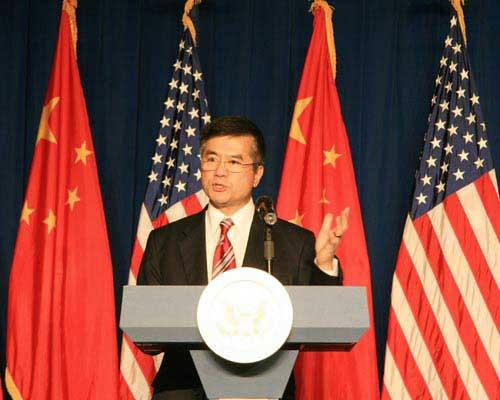 U.S. Ambassador Gary Locke delivers a speech on Sino-U.S. Economic & Trade Relationship
on Sep. 20 in Beijing. [By Ke Wang / China.org.cn]
Locke discussed the future of the Sino-U.S. economic and trade relationship when speaking at U.S.-China Economic & Trade Relationship at American Chamber of Commerce and U.S.-China Business Council Event.
Locke stressed the interdependence of the two economies and urged them to work together to help the global economy return to full strength. "Given our economic interdependence, more jobs in America and a stronger American economy is also in the economic interest of the Chinese people," he said.
Locke talked about U.S. President Barack Obama's priority of creating jobs and outlined ways he would support that effort through: helping to double U.S. exports by 2015, increasing investment by Chinese companies in the U.S., and ensuring that U.S. companies can compete on a level playing field in China.
China holds the world's largest foreign exchange reserves and has invested two thirds of the 3.2 trillion sum in U.S. dollars. According to a CCTV report, the recent downgrading of U.S. credit rating by Standard & Poor has clouded the prospect of the investments.
In response, Locke announced a new trade and investment initiative with the goal of increasing bilateral trade and investment to create economic opportunities for workers and firms in both countries. The ambassador said he will lead five sector-specific trade missions to China's emerging cities next year, with the focus on renewable energy, railways, healthcare, aviation and information technology. For the benefit of China and the global economy, Locke encouraged China to accelerate reforms in several key areas including the policies regarding foreign direct investment, the value of the yuan, and the protection of intellectual property rights.
"A more open and diverse Chinese financial system would help spur China's economic reform efforts by helping finance the most dynamic firms in the economy and by putting more money in the pockets of the Chinese people through better savings options," he said.
However, Locke said the growth model China has relied on for the last 30 years – one predicated on low-cost exports and investment in resource intensive heavy manufacturing – is "unlikely to serve it well in the next 30 years."
He also quoted Premier Wen Jiabao who identified in 2007 that the Chinese economy was "unstable, unbalanced, uncoordinated, and unsustainable."
"China's challenges have accelerated in the past few years in the wake of the global financial crisis and the continued weakness in China's overseas export markets," Locke said, adding China's current business climate has caused concerns from foreign business and government leaders.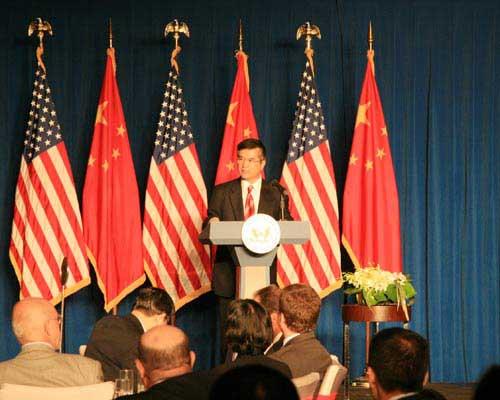 U.S. Ambassador Gary Locke delivers a speech on Sino-U.S. Economic & Trade Relationship
on Sep. 20 in Beijing. [By Ke Wang / China.org.cn]
In a report from AmCham in March, 24 percent of respondents to an annual business climate survey said China need to improve the environment, up 9 percent from a similar poll taken last year.
Locke said one specific area where China's lack of openness has raised concerns was in the financial services sector.
The OECD reported that China has some of the most restrictive barriers for entry in the financial services sector.
In his speech, Locke stressed some China's large banks are oriented to serve the needs of large state-owned enterprises. But private, small and medium-sized businesses have financial product and service needs different from larger companies.
He said that opening up China's financial services to more foreign investment can create a more competitive market that provides better services to small businesses and households and reduces the need for them to save so much of their income.
"A more open China will lead to a more prosperous and stable China. That's good for China, the United States and, indeed, the entire world," he said.
Related stories
Editor:Yang Jie |Source: Shanghai Daily