MANILA, Philippines - A powerful typhoon has slammed ashore in the eastern Philippines where authorities ordered more than 100,000 people to seek shelter from heavy rains and gusts of up to 106 miles (170 kilometers) per hour.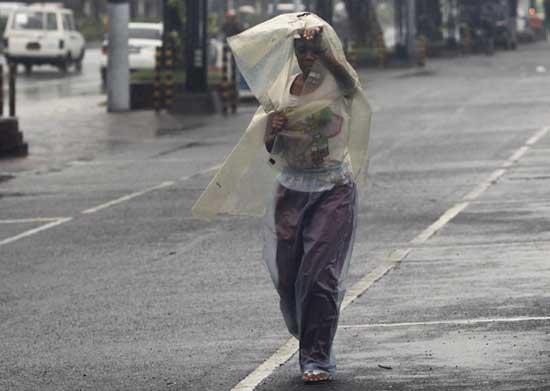 A woman uses a sheet of plastic to protect herself from rain brought by typhoon Nesat,
known locally as Pedring, while walking along a main street in Manila September 26, 2011.
[Photo/Agencies]
The government weather bureau says Typhoon Nesat made landfall before dawn Tuesday over eastern mountainous Isabela and Aurora provinces facing the Pacific Ocean.
It is packing maximum winds of 87 mph (140 kph) and with the immense 400-mile (650-kilometer) cloud band threatens to foul weather across the entire main Luzon Island as it moves toward the South China Sea.
Heavy downpours and wind prompted the closure of schools and universities in the capital Manila while domestic flights are canceled and inter-island ferries grounded, stranding thousands.
Schools in the Philippine capital have suspended classes and many local flights are canceled as the country's main island braces for heavy rains and winds brought by fast-moving Typhoon Nesat.
Forecasters say Nesat will make landfall in eastern Aurora province in the next 24 hours and cross Luzon Island north of Manila with winds of up to 133 miles (215 kilometers) per hour.
Heavy downpours and wind on Monday prompted the government to shut schools in Manila while airlines canceled flights to central and eastern parts of the country.
The coast guard also grounded inter-island ferries, stranding hundreds of travelers.
The typhoon bore down on the Philippines exactly two years after nearly 500 people died in the worst flooding in decades in Manila.
Editor:Yang Jie |Source: China Daily