BEIJING, Sept. 27 (Xinhua) -- China and the Democratic People's Republic of Korea (DPRK) affirmed on Tuesday their stands on developing bilateral ties, pledging to push cooperation to a higher level.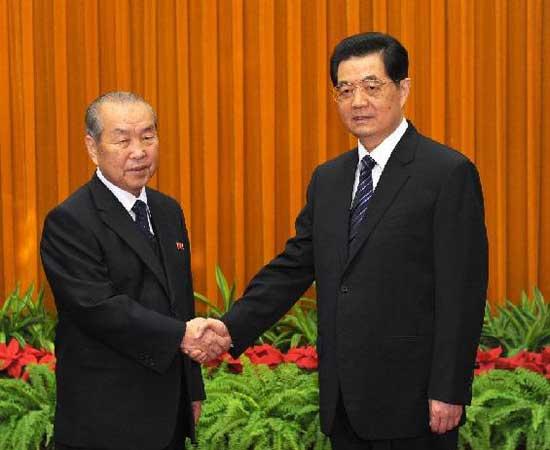 Chinese President Hu Jintao (R) meets with Choe Yong Rim, Premier of the Democratic
People's Republic of Korea (DPRK), in Beijing, capital of China, Sept. 27, 2011.
(Xinhua/Rao Aimin)
"The Communist Party of China and the Chinese government cherish the friendship with the DPRK. It is our unswerving policies to promote friendly relations with the DPRK," President Hu Jintao said in a meeting with DPRK Premier Choe Yong Rim on Tuesday afternoon.
Choe arrived in Beijing on Monday for a five-day official visit as the guest of Premier Wen Jiabao.
In their hour-long meeting, Hu reviewed the progress of China-DPRK relations in recent years, citing close political exchanges and fruitful cooperation in all fields.
Hu said China-DPRK friendship has been fostered by several generations of leaders in both countries and is treasured by both sides.
It is the common responsibility of both countries to pass on China-DPRK friendship, Hu said.
Hu called for both countries to maintain high-level visits, strengthen strategic communication, expand mutually-beneficial cooperation and safeguard regional peace, stability and development.
Choe said the DPRK would like to work with China to bring bilateral relations to a new high.
On the situation of the Korean Peninsula, Hu called for more dialogue and negotiations to resolve relevant issues.
It is in the common interests of all sides to realize the denuclearization of the Peninsula and safeguard peace and stability, which also meets the aspirations of international community, Hu said.
"China supports the positive efforts by the DPRK to ease tensions on the Peninsula and improve the external environment," Hu said, adding that China believes the DPRK will seize the current good opportunity and promote the improvement of the Peninsula situation.
Top DPRK leader Kim Jong Il said the DPRK is ready to resume the six-party talks without preconditions when he visited China in August.
Choe reaffirmed Kim's stance, saying it is DPRK's consistent stance to seek a denuclearized Korean Peninsula and safeguard peace and stability.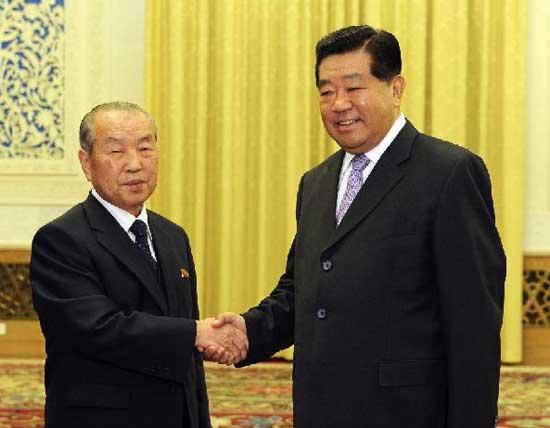 Jia Qinglin (R), chairman of the National Committee of the Chinese People's Political
Consultative Conference (CPPCC), meets with Choe Yong Rim, Premier of the Democratic
People's Republic of Korea (DPRK), in Beijing, capital of China, Sept. 27, 2011.
(Xinhua/Rao Aimin)
Related stories
Editor:Zhang Rui |Source: Xinhua