Italy set up a World Cup showdown with Ireland after roughing up the US Tuesday, while Canada were left feeling "glum" and Japan reduced to tears after a draw in Napier.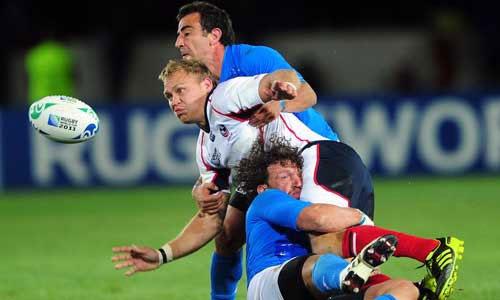 Paul Emerick of the US (center) is tackled by Italy's Mauro Bergamasco (bottom)
and Luciano Orquera. Italy won 27-10. Photo: AFP


Japan were already on their way home before their 23-23 stalemate with Canada in Pool A and the Americans joined them at the exit after falling 27- 10 to Italy in the Pool C clash in Nelson.
The Azzurri scrum appropriately secured the bonus point with a penalty try late in the second half as the Americans wilted in the face of the onslaught of Italian muscle.
But Italy's performance was patchy and Ireland will not be quaking in their boots ahead of their must-win match in Dunedin on Sunday.
"It was a tough physical match and we are a bit disappointed with how we played, but we did what we had to do and managed to get the five points," said prop Martin Castrogiovanni.
"I think our minds were drifting to the Ireland match a bit and that affected how we played."
Canadian fly-half Ander Monro earlier slotted a 79th-minute penalty to break Japanese hearts, ensuring a draw for a second successive World Cup between the two nations and denying the "Brave Blossoms" a first win since the 1991 tournament.
The Canadians could mathematically still qualify for the last eight by turning the rugby world on its head with a bonus-point win over hosts New Zealand and if Tonga also stun France in the final round of matches next weekend.
"The tie is a bit like kissing your cousin. It's great to kiss them but it's your cousin," Canada captain Pat Riordan said. "The guys are pretty glum at the moment."
Some of the Japanese players were in tears after failing to break their 20-year winless streak at the World Cup.
"It kills me that we weren't able to win," said winger Hirotoki Onozawa. "I had told myself not to get too emotional, but I did."
Ireland, who have won all three of their matches but have not yet secured a place in the quarterfinals, remain wary of the Italian threat.
"It's the one all along where they felt they could create a huge upset and so we know as well they will probably be putting a little bit more into this game for us than some others," said fullback Rob Kearney.
"But I think the national team have shown throughout the last few years that when the chips are down and we need to win, we can win."
Meanwhile, South Africa coach Peter de Villiers was finally able to call on almost all of his squad, naming lock Victor Matfield for their final Pool D match against Samoa on Friday, where a point will secure the holders a quarterfinal place.
"They're a brute side so it won't be easy but we're working hard to hopefully put them under pressure in the line-outs and in the scrums," Matfield said of the Pacific islanders.
Editor:Zhang Rui |Source: Global Times