Renren Inc, China's leading social networking website, announced Tuesday that it plans to buy 56.com, a domestic video sharing website, for $80 million in cash, a move aimed at boosting its traffic and extending its business.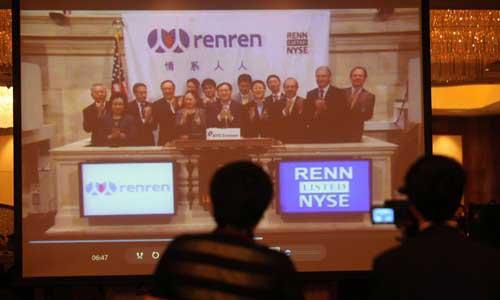 Renren Inc, China's biggest social networking website by page views, debuts on the
New York Stock Exchange on May 4, 2011. Renren raised $743.4 million in its initial
public offering. Photo: CFP
"We expect that the synergies and cross marketing opportunities between 56.com and Renren communities will further drive growth in user engagement, traffic, and advertising solutions for clients," Chen Yizhou, chairman and CEO of Renren, said in a statement.
"Renren will provide capital support and deeper resources to enhance 56.com's attractiveness to users," Zhou Juan, co-founder and CEO of 56.com, told the Global Times Tuesday.
Zhou said 56.com will keep its independent operation after the acquisition, and will integrate products and sales channels with Renren.
This is the first acquisition by Renren since its debut on the New York Stock Exchange in May. The company had $1.15 billion in cash and cash equivalents by June 30, and the acquisition is expected to be completed in the fourth quarter of this year.
The deal was reached amid weak market sentiment. Tudou Holdings, a domestic video website that debuted on NASDAQ last month, closed at $17.31 Monday, less than two-thirds of its $29 IPO price.
"The value of the deal is higher than I expected," Zhang Fan, an Internet industry analyst at Analysys International, told the Global Times, Zhang mentioning a similar deal in which Shanda Interactive Entertainment bought video website Ku6.com in 2009 for about $44 million.
Zhang said the deal would help 56.com ease its financing shortage. The website had two rounds of financing in 2006 and 2007, raising $30 million in total. No more financing has been announced since then.
"Renren is mainly focused on the large user base of 56.com," said Zhang. In the second quarter of this year, 56.com ranked sixth in China's online video sector in terms of revenue, and had a 2.2 percent share of the market, according to statistics from Analysys International.
Analysts say the prospects for the deal will depend on further integration of the two websites.
"As there are already several big players such as youku.com and Tudou in the domestic online video sector, Renren is not likely to invest much in 56.com for purchasing authorized video programs," said Zhao Xufeng, an video industry analyst at iResearch.com. "It will use 56.com as a supplement for its social networking services."
56.com is expected to make a loss of up to $2 million in 2012, which will drag down Renren's net profit to $22 million for the year, Credit Suisse said in a research report released Tuesday.
Editor:Zhang Rui |Source: Global Times