Amid public anger and criticism, the Gansu provincial government released preliminary findings on Tuesday on the cause of quality problems on a highway that cost more than 8 billion yuan ($1.25 billion) to build but had a service life of less than 80 days.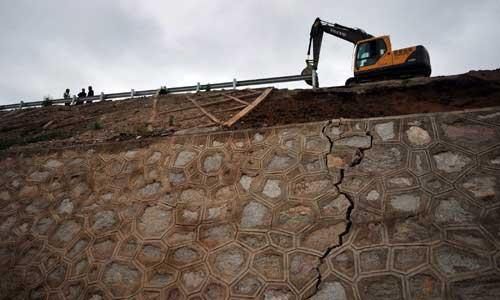 Repair works are seen underway September 21 on a highway linking Tianshui and Dingxi
in Gansu Province after huge cracks appeared on the roadbed. Photo: Xinhua
Last week, China Central Television (CCTV) reported that large cracks and potholes were found on a 52-kilometer section of the 235-kilometer highway linking Tianshui and Dingxi in Gansu, which opened to the public at the end of May.
The highway project has a total investment of 8.75 billion yuan, involving 75 design, construction and inspection organizations. It was dubbed "the road for development and hope" as part of an artery linking China's east and west.
However, quality problems quickly turned the highway into "a country road," the Beijing News commented, and speculation began to grow over possible corruption in the project.
Wu Zhibin, a deputy secretary-general of the Gansu government, told reporters at a press conference on Tuesday that repair work started July 14 and had been completed by Monday.
"The repair work cost 120 million yuan in total, which was taken on by the highway's builder, Meng Xing Engineering Co in Shaanxi Province, as the road failed within the two-year guarantee period," Wu said.
He listed three major reasons for the quality problems: inferior raw materials, shoddy construction work and bad weather.
Wu pledged that the government would continue its investigation to determine who was to blame, and the probe result would be made public at the proper time.
The press conference ended without a question and answer session.
"Based on the samples taken after repairing and related tests, the highway is now qualified for transportation and those problems will not appear again," Tan Yingpeng, director of the engineering department with the Gansu Provincial Communication Department, told the Global Times.
Tan insisted that authorities conducted inspections on the highway before its opening in May, and no problems were detected at that time.
However, the explanation left the public far from satisfied.
Shi Qixin, a professor with the Institute of Transportation Engineering at Tsinghua University, told the Global Times that if the inspections had been conducted properly, the highway would not have been opened in May.
"All those quality problems could have been spotted during the checks, but apparently those in charge of inspections failed in their responsibility," Shi said.
"There must be some fraud involved in such a short-lived highway. If investigators do their homework, they can dig it out," Li Xinding, a truck driver in Tianshui, told the Xinhua News Agency.
In a previous interview with Xinhua, Zhang Zhiyong, an executive deputy director of the project, argued it was impossible that shoddy work and inferior materials were used during the construction, but he shied away from answering questions on management loopholes.
The Gansu Provincial Communications Science Research Institute Co, which was in charge of the project's acceptance inspection, declined to comment on the issue when contacted by the Global Times.
China has been blighted by the so-called jerry-built projects in recent years.
In one of the most notorious cases, a newly built residential building in Shanghai collapsed in June 2009 due to an arbitrary change of design and shoddy construction, causing one worker's death.
Eight people received sentences for the accident, including Que Jingde, who held a local government post at that time and confessed to graft involving more than 40 million yuan.
A similar case happened in July in Zhengzhou, Henan Province, where a residential complex was ordered to be demolished due to its inferior quality two months after completion of its main construction.
Local authorities ordered an immediate rebuild after the demolition, as the complex had been designated for resettlement, but no parties have been found to bear liability for the case.
The People's Daily commented that in many infrastructure projects, the local government plays the role of both investor and supervisor, greatly hindering the effectiveness of project inspections.
"Meanwhile, the real investors of those projects are the taxpayers who have little say in the whole process from bidding and inspection to the completion of the project. The lack of public monitoring leads to fraud in those projects," it added.
Shi noted that an independent inspection group should be set up to supervise every step of infrastructure projects to minimize corruption and help improve project quality.
Liu Linlin contributed to this story
Editor:Zhang Rui |Source: Global Times