BEIJING, Oct. 10 (Xinhua) -- Top legislator Wu Bangguo said on Monday that China is ready to work with Canada to consolidate the political, economic and public basis of bilateral relations.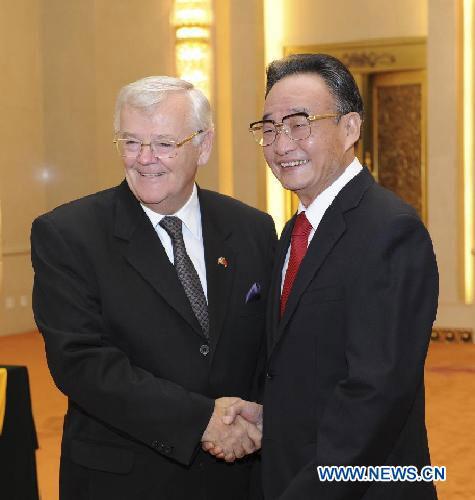 Wu Bangguo (R), chairman of the Standing Committee of China's National People's
Congress, meets with Noel A. Kinsella, Speaker of the Senate of Canada, in
Beijing, capital of China, Oct. 10, 2011. (Xinhua/Ma Zhancheng)
Wu, chairman of the Standing Committee of the National People's Congress (NPC), made the remark while meeting with visiting Canadian Senate Speaker Noel A.Kinsella at the Great Hall of the People.
Wu emphasized that China places great importance on its relations with Canada. He said the two countries should insist on expanding bilateral links from a strategic perspective and with a long-term view. He said the two sides should observe the principles of mutual respect, treat each other as equals and mutually benefit by taking care of each other's interests and concerns.
Wu expressed his wish that the two sides will fully utilize their complimentary economies by expanding trade and investment and fostering growth in the areas of aviation, transportation, science, technology, agriculture and environmental protection.
Wu said China and Canada are countries of major influence in the Asia-Pacific region and the world. He said the two sides share broad common interests in advancing their own development and maintaining regional and global peace, stability and prosperity.
He said despite differences in history, culture and real conditions, the two sides do not have any conflicts of basic interest.
Wu said China-Canada relations have seen remarkable growth since the two countries established diplomatic links 41 years ago.
Both Wu and Kinsella agreed to strengthen multi-level exchanges between the legislatures of both countries. They vowed to enrich the content of interparliamentary collaboration, advance pragmatic cooperation and strengthen coordination within multilateral parliamentary organizations.
Kinsella reiterated the importance of China in Canada's foreign relations. He expressed a desire to further strengthen bilateral trade and cultural exchanges and advance mutually beneficial cooperation in the areas of aviation, education and agriculture.
Related stories