Former Libyan leader Muammar Gaddafi was buried in a secret location Tuesday after his corpse had been displayed to the public fors days, while concerns over the future of the African country mounted with a deadly explosion killing over 100 people in Sirte.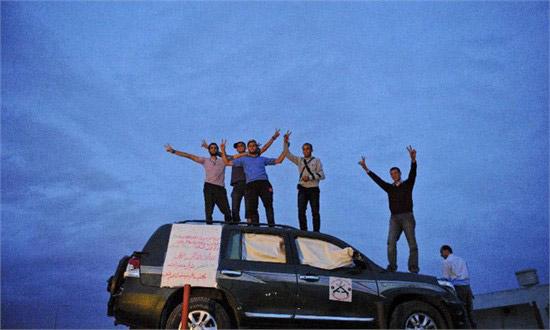 People pose for photos on a green-colored SUV believed to be the last vehicle that former Libyan leader Muammar Gaddafi was using before his capture and death in Misrata, Libya, Oct. 24, 2011. Chairman of Libya's National Transitional Council Mustafa Abdel Jalil said on Monday that a committee will be set up soon to investigate the death of Muammar Gaddafi, whose body has not been buried. Photo: Xinhua
According to a Misrata military council official who insisted on anonymity, Gaddafi, his son, Mo'tassim, and former defense minister, Abu Bakr Younis, were buried in a secret desert grave at dawn Tuesday. Three religious leaders loyal to Gaddafi prayed and performed a religious ceremony before the burial.
NTC forces had put the bodies of Gaddafi and his son on show in a freezer in Misrata as they argued with Gaddafi's tribal kinsmen from Sirte over how to deal with the remains until the decomposition of the bodies had reached the point where the "corpse cannot last any longer," Reuters reported.
Ibrahim Sharqieh, a deputy director of the Brookings Doha Center, called the NTC's disposal of Gaddafi's body "a mistake."
"It is not going to help the national reconciliation and it may cause the fallen strongman's tribe to distance (itself) from the process," Sharqieh told the Global Times.
"This is not an encouraging sign actually because this can be explained by some as an act of revenge against Gaddafi."
Sharqieh said as Libya is a tribal society, the NTC would rely on tribes to rebuild the country, so an inclusive process should be taken by the new rulers.
"They should include all tribes in the transitional period. The NTC should make a distinction between the Gaddafi regime and the tribe that he came from. His tribe shouldn't be held accountable for Gaddafi's regime," Sharqieh noted.
Tian Wenlin, a professor of Middle Eastern studies at the China Institute of Contemporary International Relations, said secretly burying Gaddafi indicates the NTC and Western powers lack confidence.
"They fear that the grave will become a shrine for Gaddafi supporters and people who felt sympathy for him, which would then threaten the new administration. This just indicated their guilt over Gaddafi's violent death and their fear of the strongman's sustaining clout," Tian told the Global Times.
Libya's interim regime Tuesday asked NATO to continue its mission in the country after the latter announced plans to withdraw by the end of this month.
"I ask NATO to remain at least for another month," interim oil and finance minister Ali Tarhuni told reporters Tuesday in the eastern city of Benghazi.
A fuel tank exploded Tuesday in Sirte, Gaddafi's hometown, killing more than 100 people and injuring at least 50 others, according to NTC commander Leith Mohammed.
The explosion happened as a crowd of people waited near the fuel tank to fill up their cars.
Iranian President Mahmoud Ahmadinejad, who supported the Libyan revolt against Gaddafi, urged the Libyan people Tuesday to prevent Western powers from taking control of the country.
"NATO forces intervened under the pretext of helping Libyans ... and have turned Libya into ruins ... and under the pretext of reconstructing Libya, they want to plunder its wealth," Ahmadinejad said.
Separately, 53 Gaddafi loyalists were reportedly found executed at an abandoned hotel in Sirte. Some of them were said to have had their hands bound behind their backs before being shot.
The US has urged Libya's interim authority to probe the issue and uphold human rights.
The NTC has promised to investigate how Gaddafi and his son were killed. Mobile phone footage shows both men alive after their capture. The former Libyan leader was seen being mocked, beaten and abused before he was shot.
NTC Chairman Mustafa Abdul Jalil has announced that Libya had "taken Islamic sharia as the source of legislation," raising concerns about the country's future direction, Reuters reported.
Jane Kinninmont, a senior research fellow with the Middle East and North Africa Programme at Chatham House, told the Global Times that the progress made by the NTC in quite a short period of time has been "fairly impressive."
Kinninmont reminded the transitional government that focusing on revenge can be damaging to the future, citing the alleged mass killing of Gaddafi's supporters.
"The strongman's death does not mean the arrival of a democratic society. The leaders of the anti-Gaddafi force in fact mainly come from those tribes that had been ignored by Gaddafi's regime. Thus their motive might be to gain political and economic power," Tian said.
Also Tuesday, French weekly Paris Match reported that Gaddafi wrote to Italian Prime Minister Silvio Berlusconi in August begging him to halt a NATO-led intervention.
The magazine's website showed a copy of the letter, dated August 5 and in printed Arabic, with handwritten lines scrawled on it, purportedly by Gaddafi and marked to the attention of his aide, Abdallah Mansour, Reuters reported.
"I have been surprised by the attitude of a friend with whom I have sealed a treaty of friendship that benefits both our nations," the letter read. "I would have hoped that at least you would have been concerned at the facts and would have attempted a mediation before adding your support to this war."
Related stories
Editor:Zhang Jianfeng |Source: Global Times