US coffee giant Starbucks is planning to triple the number of cafes to 1,500 in the Chinese mainland by 2015, the company said Tuesday.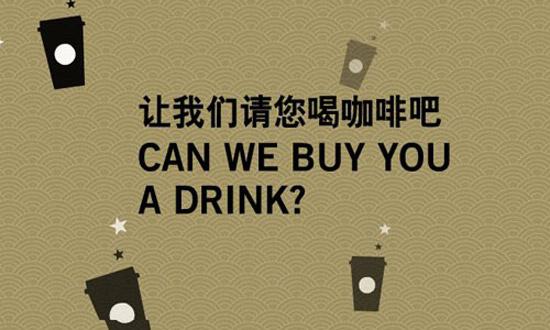 Photo: starbucks.com.cn
Starbucks will enhance its presence in second- and third-tier cities, the company said. It is also planning to purchase more domestic coffee beans to meet the demand of the fast-growing market.
The Seattle-based coffeehouse chain will mainly focus on new markets, mostly second- and third-tier cities, in its expansion, while large cities such as Beijing still have potential for further penetration, Belinda Wong, president of Starbucks China, said Tuesday.
"In choosing the locations for our new cafes, we will evaluate its connection with our brand, customer demand, the availability of real estate and financial situations," she said.
Starbucks is also trying to get more involved in local culture as it expands its footprint in the country. "We always pay respect to the heritage of local people, and are still learning how to involve ourselves in the local community," Wang said.
Starbucks is facing fierce competition from international and domestic counterparts. UK-based Costa Coffee, with more than 100 cafes across the country, aims to increase its share of the mainland market to 35 percent by 2015 from the current level. China Resources Enterprise also plans to increase the number of its Pacific Coffee chain in the Chinese mainland fivefold to 50 cafes by the end of this year.
"Fast expansion is not difficult, but managing these shops and recovering the investments are the main challenges for these coffee chains," Yan Qiang, partner of Adfaith Management Consulting, told the Global Times Tuesday.
Starbucks said in July that it plans to set up a joint venture with Ai Ni Group, a domestic coffee growing and processing company in Yunnan Province, later this year or next year.
The registration process and corporate structure design of the joint venture has been nearly completed, according to Shi Dongwei, vice president of public affairs at Starbucks China.
"The venture will focus on purchasing and processing local coffee beans, which will be used in Starbucks' stores around the world," he said Tuesday. "We will also continue to experiment growing our own coffee beans in the province."
Yan said purchasing and producing in China can help Starbucks save some costs and ensure food safety. "To increase its profitability, Starbucks will probably follow fast food chain KFC's model to introduce more localized food and drinks."
Editor:Zhang Jianfeng |Source: Global Times