A children's soccer match between Chinese and Russian primary age students, in which the visiting team thrashed the hosts by 15 goals to nil, has led to soul-searching over whether there is any future for soccer in China.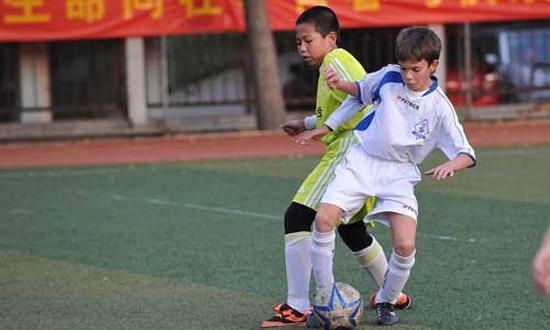 Russian primary children tackle another local team Tuesday. The visitors defeated the home side again. Photo: CFP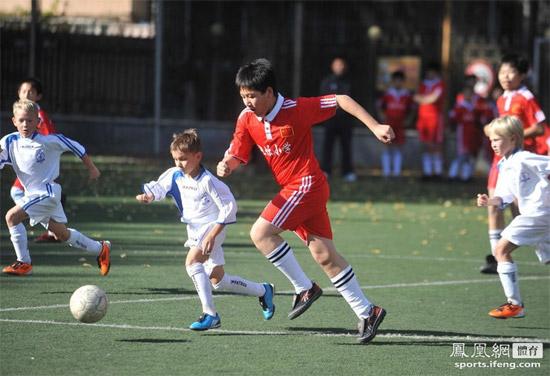 Russian primary children tackle another local team Tuesday. The visitors defeated the home side again. Photo: CFP
Fans and players alike are wondering if the nation's examination-oriented education system is to blame for the team's failure.
A microblogger posted pictures of the game on his Sina Weibo account Monday night, with the caption "pupils of Ditan Primary School couldn't handle a 40-minute match so it was shortened to 20 minutes, and the result was 0:15. Our kids were defeated because of a big physical quality gap."
The Weibo entry was reposted around 20,000 times Tuesday, with upset Web users discussing if the emphasis on exam results above all else "sabotages the children's physical health and future Chinese soccer stars."
Hao Haidong, one of China's most successful soccer internationals, added to the debate Tuesday.
"It seems our kids were even bigger [physically] than the Russian children, actually we were just more chubby. And that's what happens when the parents care more about academic scores rather than independent personality, healthy body and other values," the former player for English league club Sheffield United posted on Weibo.
Ditan primary's vice-principal, surnamed Wei, said that Monday's game was the first time the team had competed with foreign students, and the result was predictable. There is only one other primary school in Dongcheng district they can play against, he said.
"The Russian kids were trained professionally and were champions in their country. It was a good opportunity for our kids to practice and learn," Wei said, "although the score was worse than we thought."
But a Ditan Primary School PE teacher, surnamed Zheng, said the team only lost by 11 goals to nil, not 15, contrary to reports.
Although there has been a lot of talk about reforming China's education system, Zheng said he believes it will come to nothing.
"These reforms cannot be fully implemented in reality, when the scores in the tests are the most important thing to measure a kid's achievements," Zheng said.
The curriculum regulated by the Ministry of Education mandates three to four classes a week in primary schools, as well as at least one extra hour of activity time each day.
"The kids only have one or two PE classes, fewer than before, and as the only child, parents will question us if there's just a small cut on the kid's finger, so the school doesn't want to get in trouble to expand the types of exercise," said Li Ning, a teacher from Fangcaodi Primary School in Chaoyang district.
Yang Yuhui, publicity employee of ClubFootball, which currently has 2,003 participants in their children's league, half Chinese and half foreign, also notices the differences between the children.
"Certainly the foreign kids are stronger in their skills and physical quality, because they don't have the exam pressure. Foreign kids' parents enroll them in tennis or other sports, while Chinese parents enroll their kids in extracurricular courses on weekends," Yang said.
Among the over 1,000 Chinese children in ClubFootball, there are hardly any above the third grade in primary school. It's around that time the parents think the children had better "focus on studying instead of sports," Yang said.
The Russian team played again Tuesday against another team of selected local primary school children considered to be more professional than Ditan Primary School. The Russians defeated this team seven goals to three.
Meanwhile, in his most recent Weibo post Tuesday, Hao posed the nation a question.
"To the whole society, schools and parents should ask themselves what they have done to the kids, [who are] China's future soccer stars, while constantly scolding the [national team's] coaches and players for bringing humiliation to the country."
Related stories
Editor:Zhang Jianfeng |Source: Global Times