SHANGHAI - A Wenzhou native with Italian citizenship who was severely injured in the July 23 high-speed train crash underwent critical surgery on Tuesday morning at a hospital in Shanghai.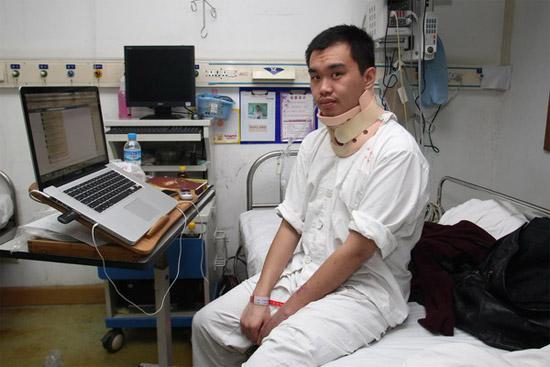 Giovanni Pan in Shanghai Changzheng Hospital on Monday. He suffered injuries to his neck, spine and lungs in the July 23 train crash in Wenzhou, and his girlfriend died. [Photo/provided to China Daily]
Giovanni Pan, a 22-year-old amateur boxer, had a two-hour operation on his neck, said Shao Xiaolan, a nurse in charge of his ward in Shanghai Changzheng Hospital.
Pan has undergone treatment since the train crash. He was hospitalized at Wenzhou People's No 2 Hospital before he was transferred to the Shanghai hospital on Oct 21.
"The surgery went quite smooth and turned out successful," said a doctor in charge of Pan's recovery who identified himself only by his surname Mao.
Mao said Pan was conscious after the surgery, and was in stable condition by the afternoon.
Pan suffered severe injuries to his neck, spine and lungs in the collision, which killed 40 people, including his girlfriend, Assunta Liguori, an Italian student.
Pan and his girlfriend had dated for about one year before the accident. They were students at Italy's University of Napoli, where Pan majors in Chinese and English. Liguori was in an Oriental Studies program.
The couple was sitting in the front carriage of train D301 when it crashed into D3115. Four carriages, including theirs, derailed.
They were going to Wenzhou to visit Pan's grandparents who funded the young couple's trip.
Pan was still deeply saddened by his girlfriend's death, Shao said.
His neck injuries and numbness in his limbs may impact his balance, the hospital said.
"He might not go back to boxing arena and other tough contact sports given his situation, but if he recovers well, he may participate in some other sports such as swimming," Mao said.
Mao said it was difficult to predict Pan's future condition, but given that he was young, he had the potential to lead an active life again.
Pan is expected to remain in the hospital for two more weeks.
His family said it would not deal with compensation issues before Pan recovered.
The Ministry of Railways said a 915,000 yuan ($143,800) compensation payment was given to each victim of the train crash, and Liguori's family would receive the same sum.
The investigation into the train crash has entered a crucial stage, Huang Yi, spokesman for the State Administration of Work Safety, said in an interview with people.com.cn, an online platform for People's Daily.
Huang said the investigation was continuing and was being conducted in an orderly manner, and its findings would be released to the public.
"I believe we will give a responsible account to the people," Huang said.
Related stories
Editor:Zhang Jianfeng |Source: China Daily