The Texas Rangers are one victory away from the World Series title after coming from behind to beat the error-prone St. Louis Cardinals in Game 5 Tuesday at Rangers Ballpark.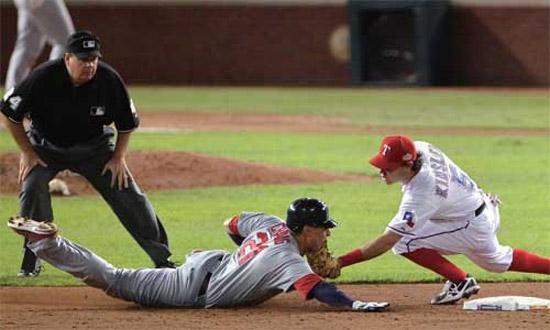 St. Louis Cardinals' Allen Craig is caught stealing at second base by Texas Rangers' Ian Kinsler (right) for a double play in the ninth inning. Photo: AFP
The Rangers survived another solid outing by St. Louis pitching ace Chris Carpenter by getting solo homers from Adrian Beltre and Mitch Moreland before catcher Mike Napoli delivered the knockout blow with a two-run double in a 4-2 win to take a 3-2 series lead.
"I want to be a complete player," said Napoli who threw out St. Louis baserunner Allen Craig twice trying to steal. "I am not just here to be an offensive player."
The Rangers are trying to win their first Major League Baseball Championship after losing in five games last year to San Francisco.
Texas has appeared confident all season and determined to get back to the big stage for a chance at taking care of unfinished business. The last team to win the World Series one year after losing it was Oakland (1988-89).
The team that wins Game 5 in a World Series tied at two games apiece has gone on to win the title 66 percent of the time.
"We are excited about it," said Rangers infielder Michael Young. "We have a really hungry team. It is the most mentally tough, blue-collar type team I have ever been part of. We know what the stakes are and we will show up ready to compete."
Turns out, the taste of success from last year's runner-up berth in the World Series is not enough for this team "We expect to win every day. We will go out there and play the game the right way," said Napoli.
The Cardinals hope they do not repeat the same mistakes in tomorrow's Game 6 that plagued them Tuesday.
The most glaring blunder was Craig getting caught stealing twice late in the game. There was also a mix-up between manager Tony La Russa and the bullpen that left reliever Marc Rzepczynski in the game longer than La Russa would have liked.
La Russa blamed crowd noise for not being understood over the phone by the people in the bullpen when he asked for clutch closer Jason Motte to start warming up.
The bullpen thought they heard him say Lance Lynn's name so Lynn got up and started throwing instead of Motte.
Asked how he might remedy the mistake in the future, La Russa said, "smoke signals from the dugout."
La Russa said what bothered him even more was the dozen runners St. Louis left on base in Game 5.
"We had a lot of chances. It is a very disappointing, frustrating loss," he said.
Related stories
Editor:Zhang Jianfeng |Source: Global Times