Media regulators Tuesday announced a new directive to limit entertainment programs on 34 satellite TV channels and to replace them with "healthy shows," amid debates over moral decline in the country and the need for cultural reforms.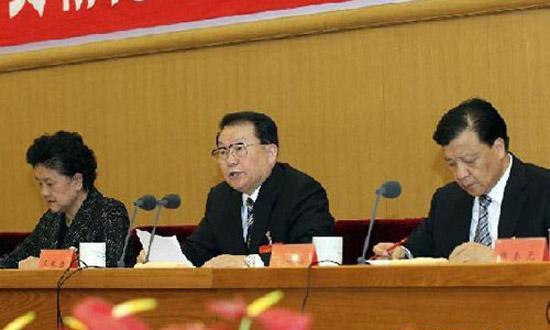 Li Changchun (C), a member of the Standing Committee of the Political Bureau of the Communist Party of China (CPC) Central Committee, speaks at a meeting on publicizing culture-oriented guidelines adopted at the sixth plenary session of the 17th Central Committee of the CPC, in Beijing, capital of Beijing, Oct. 25, 2011. Photo: Xinhua
The new rules, published by the State Administration of Radio, Film and Television (SARFT) will take effect on January 1. They are aimed at "preventing excessive entertainment and vulgar content so as to meet the people's demand for more delicate programs."
According to the new rules, the total number of entertainment shows aired daily by the 34 channels between 7:30 pm and 10 pm is restricted to nine. For each channel, only two entertainment programs are allowed in a week, and will be limited to 90 minutes each.
The new directive does not give a definition for entertainment shows or to what extent they will be considered excessive, but lists match-making shows, game shows, talk shows, talent shows and reality shows as its primary targets.
It requires satellite channels to increase the number and length of news programs, as well as add shows that are aimed at building morality and prompting the core values of socialism.
"All broadcasting, TV and relevant organizations are not allowed to conduct ratings rankings, and they are forbidden from eliminating or evaluating programs solely based on audience figures," it added.
The Xinhua News Agency quoted an insider as saying earlier that the SARFT would also restrict the appearance of Taiwan artists in mainland TV programs, although the official directive does not mention such a rule.
The new rules also apply to CCTV-1, the general channel of China Central Television. But CCTV-3, a channel specializing in arts and entertainment, will not be affected.
According to the Yangcheng Evening News, about 17.5 percent of China's TV programs are entertainment shows. Most of them are aired during prime time, and the fierce competition for viewership has forced some TV stations to design vulgar shows that have sexual content or promote materialism.
The new rules came shortly after the Plenary Session of the 17th Central Committee of the Communist Party of China (CPC) last week, during which officials discussed cultural reforms in the wake of China's fast economic development.
General Secretary of the CPC Central Committee Hu Jintao spoke about the urgent need to deepen cultural reform in his speech marking the 90th anniversary of the founding of the Party on July 1.
A front page article in People's Daily on October 11 praised Chongqing's red culture campaign, hailing the municipality for being a "rising highland" of cultural reform.
Liu Xiaoying, a professor of journalism at the Communications University of China, told the Global Times that the media is not supposed to give the audience whatever they like, and they should shoulder their social responsibility.
"We are already having moral issues like walking away from people in need of help, and some vulgar entertainment programs, with their excessive materialism, are making the trend worse," Liu said.
However, he added that local satellite TV stations are better at finding out what people need and making programs reflecting those needs.
Qiao Mu, a researcher at the journalism research center of the Beijing Foreign Studies University, argued that the broadcasting authority acts like a parent deciding what is best for its children, and the provincial satellite TV channels will see their ratings and advertisement revenue drop if the rules are enforced.
"Have the TV stations and viewers been consulted as to what constitutes excessive entertainment? Government authorities should stop micro-managing the TV industry and instead leave it to the market," Qiao told the Global Times.
A tight grip on TV shows will not achieve the aim of improving morality, Qiao asserted.
"You may stop materialism on TV but you cannot stop it elsewhere. If some local governments can be money-driven about their land use policy, why can't a girl choose to marry a rich man?"
This is not the first time the SARFT has published such harsh rules. In 2004, it ordered that no TV series involving homicides and violence should be broadcasted in prime time.
Two years later, it added that foreign TV shows could not be broadcast in local dialects before banning foreign cartoons from prime time in September 2006.
"Entertainment should have its limits, but the definition of excessiveness should be decided by the public and by the market, not by a single group of people. Abrupt rules could lead to the demise of the TV entertainment industry," the Guangzhou Daily commented.
Editor:Zhang Jianfeng |Source: Global Times