Chinese farmers finding it hard to obtain bank loans are turning to micro-credit organizations to help them launch their own businesses, amid the accelerated expansion of the non-governmental financial system.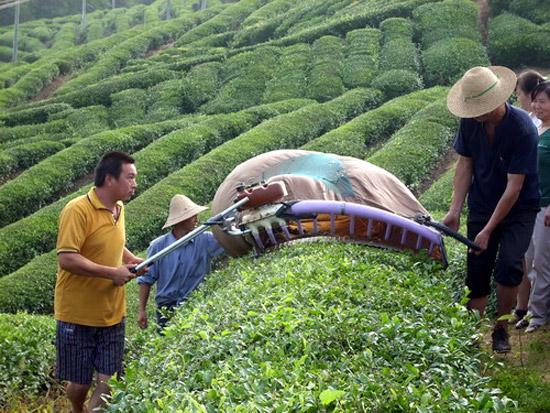 Farmers pick tea at a farm in Xixiang county, in southern Shaanxi province. Spring is not only the busiest picking season, but also the time that the growers are in greatest need of funds. Local female farmers find it convenient to borrow money from the Women's Development Association, a non-governmental micro-finance organization. [Photo/ China Daily]
With savings of only 1,000 yuan ($157) and no other income five years ago, Li Wenqin, a farmer in her 50s, never thought that she would earn more than 300,000 yuan annually, selling tea not only in her hometown but also nationally.
Li's success story began in 2006 with a loan of 3,000 yuan over one year from a local non-governmental organization, the Xixiang county Women's Development Association (WDA), in southern Shaanxi province.
With the money she'd borrowed and her savings, Li rented a tea plantation of 2.66 hectares in the first year. "There was no way to get a loan from the bank at that time, because I had no valuable assets to pledge. Also, very few friends were willing to lend me money because they were worried about whether I could pay them back," she said.
"Actually, I paid back the loan the next year," Li said. According to the loan agreement, the WDA charged interest of 10.8 percent annually and so every quarter Li had to repay 750 yuan as principal and 81 yuan in interest.
In the past five years, Li has reinvested 200,000 yuan to buy equipment and rented a further 4 hectares to develop her business. Last year, she made a net profit of more than 100,000 yuan.
With a population of 410,000, Xixiang is famous for two things: green tea and poverty. In recent years, many men have left the county to seek employment in cities, leaving the women to look after the family and work on the farms.
In September, the busiest season for tea picking is long over. One grower, Wang Cuiping, who borrowed 3,000 yuan from the WDA for the first time in 2007, had time to sit down and invite me to drink her produce. Three tea-drying machines stood idle in the yard.
Spring is not only the busiest picking season, it is also the time that the growers are in greatest need of cash. "We usually meet a cash shortage that time of the year because wholesale buyers only pay at the end of the year. I borrowed a further 5,000 yuan this spring to pay the salaries of my temporary workers," said Wang.
"It is convenient to borrow from the micro-finance organization without collateral. I can get the money the day after I submit the application," she said.
Wang employs her female neighbors during the picking season, with each worker earning around 200 yuan a day.
Related stories