A friendly soccer match held between Ditan Elementary School in Beijing and an elementary school in Russia saw the Chinese team defeated by their counterparts, according to Beijing Times reporter Zhang Bin.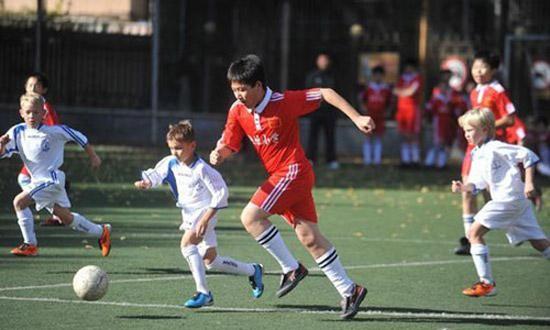 Students from the Beijing Ditan Elementary School (in red) play against their counterparts from a Russian elementary school (in white) during a friendly on Monday, October 24 in Beijing. [Photo: sports.qq.com]
With members from both teams being kids born between 2000 and 2009, the Beijing Ditan Elementary Team was beaten 0:15 in a 40-minute match by the Russian team, despite having a height advantage. Though taller and older than most of the Russian students, the Chinese team lost the match with their obvious lack of stamina and strategy.
Headmaster Yang of the Ditan Elementary School says the Chinese soccer team consists of students from grade 3 to 6. "Our players are taller but they don't have the skills, and the Russian team is one of the best in their country. There is much we have to learn from them," Yang says.
During the match, Chinese students had to constantly stop to catch their breath, which has indicated an urgent need to build up their strength and health. Chinese parents and schools tend to focus too much on studying and overlook their children's physical growth, and it would become a regrettable fact if all the investments in time and money resulted in health problems in kids.
Related stories
Editor:Zhang Jianfeng |Source: CRI