BEIJING, Oct. 26 (Xinhua) -- Vice President Xi Jinping said Wednesday that China and Uzbekistan should further advance mutually beneficial cooperation in an all-round and in-depth way.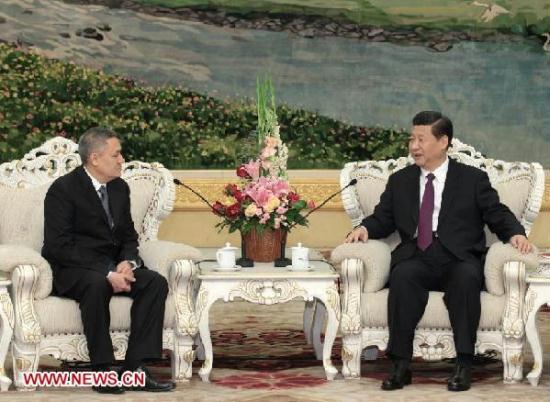 Chinese Vice President Xi Jinping (R) meets with Uzbekistan's First Deputy Prime Minister
Rustam Azimov in Beijing, capital of China, Oct. 26, 2011. (Xinhua/Pang Xinglei)
Xi made the remark when meeting with Uzbekistan's Vice Prime Minister Rustam Azimov, who is in Beijing to co-chair the first meeting of the China-Uzbekistan Inter-government Cooperation Committee. Chinese State Councilor Meng Jianzhu serves as the Chinese co-chairman of the committee.
Xi said China and Uzbekistan have always been friendly and cooperative partners who trust each other. He said since the two countries established diplomatic ties 20 years ago, bilateral relations have maintained sound momentum under the joint efforts of both sides.
The two sides have continually deepened mutual trust, reinforcing time-honored friendship and achieving rich results in the cooperative areas of economy, trade, energy, security and culture, and have supported each other on issues of their own specific interests and cooperated closely on regional and international affairs, Xi said.
He said the two countries have joined hands to make important contributions to peace, stability and development in the region and the world.
Xi said during Uzbek President Islam Karimov's state visit to China in April, the heads of state of the two countries reached an important consensus on further deepening China-Uzbekistan friendly, cooperative partnership in an all-round way. The consensus injected fresh impetus into the development of bilateral ties, Xi said.